Ryanair plans to power 12.5% of its flights with sustainable aviation fuels by 2030, the airline has said, as it announced a €1.5m donation to Trinity College Dublin to launch a sustainable aviation research centre.
The commitment comes just days after the owner of rival Aer Lingus and British Airways committed to using the fuels to power 10% of its flights.
"As Europe's largest airline, we have a responsibility to minimise our impact on the environment," the airline's Director of Sustainability Thomas Fowler said as the airline committed to the target.
Ryanair said the high number of passengers it fits into its jets, the limited number of empty seats and the low average age of its fleet gives it one of the lowest levels of carbon use per passenger in Europe.
It says its order of 210 Boeing 737 MAX jets, which use around 16% less fuel than the current generation of 737s, will cement Ryanair's leadership in the area.
But critics say the low-cost business model encourages people to fly more frequently and drives growth in the total number of people flying.
Ryanair plans to grow from flying around 150 million passengers a year before the pandemic to 200 million within five years, although it says total short-haul capacity in Europe is likely to be up to 30% lower after the pandemic.
Sustainable jet fuel generally produces up to 70% less carbon than fossil fuels.
It offers airlines a way to become greener while continuing to fly, before less carbon-intensive hybrid, electric or hydrogen aeroplane options become available from the late 2030s.
Aer Lingus and British Airways-owner International Airlines Group set its 2030 goal at 10% last Thursday.
Ryanair also said today it would give a €1.5m donation to Trinity College Dublin to launch a sustainable aviation research centre.
The project, which will employ six people, is due to start this summer.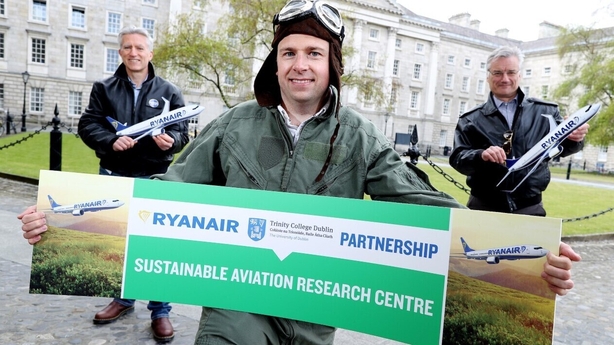 It said the "landmark initiative" - the first of its kind in Ireland - will be used to fund a multi-disciplinary research team to engage in best-in-class research around Sustainable Aviation Fuels, zero carbon aircraft propulsion systems and noise mapping.
"This new knowledge will inform the policies of both EU and international governments on making aviation environmentally and economically sustainable, as well as harness future investments by the aviation industry towards sustainability," the airline said.
Dr Patrick Prendergast, Provost of Trinity College Dublin, said that science and technological research have a vital role to play in finding balanced solutions for a better world.
"Using emerging technologies, our multi-disciplinary teams of scientists and engineers in Trinity's new Sustainable Aviation Research Centre will tackle important questions such as how to reduce aircraft emissions with sustainable aviation fuels, electric propulsion, and reduced noise," Dr Prendergast said.
"We are delighted to welcome Ryanair, which has committed itself to being Europe's cleanest and greenest airline, on board as we explore these exciting new horizons," he added.