Dalata's incoming chief executive Dermot Crowley said today that the hotel group expects to achieve very strong occupancy levels outside Dublin from June to August with a recovery in the capital possible from September.
The Government is set to sign off on a plan this evening permitting hotels to open their doors to guests for the first time in more than six months on June 2.
"Each time the hotels have opened previously, business has picked up very quickly so what we would expect is regional Ireland for June, July and August should be very strong because there is a lot of pent-up demand," Dermot Crowley said.
Mr Crowley, Dalata's deputy CEO, said he was reasonably upbeat about the prospects for Dublin hotels from September onwards with the hoped-for return of international tourism as well as some corporate travel.
Outgoing CEO Pat McCann said much of the group's corporate business related to Dublin's large hub of multinational firms who bring in large groups of people to do business in Ireland rather than single business travelers coming over for a meeting or conference.
He said that this area would recover much quicker.
Citing how the Irish domestic tourism market "took off" in December when hotels were briefly allowed to reopen, Mr McCann also expects a continuation of trips beyond August into early 2022, particularly among couples and retirees.
After Dalata raised €94m via a share placement last year to fuel post-pandemic growth in the UK, Mr Crowley said it is mainly looking at acquiring leases in new developments or existing hotels who may struggle when state supports end.
The group has already had one or two discussions on taking over leases and expects more activity from September, he added.
Earlier Dalata Hotel Group said that occupancy at its hotels ran at 14% in Dublin, 16% in the rest of Ireland and 13% in the UK during the first three months of the year.
In a trading update ahead of its AGM today, the group reported an earnings loss of €3.6m in the quarter.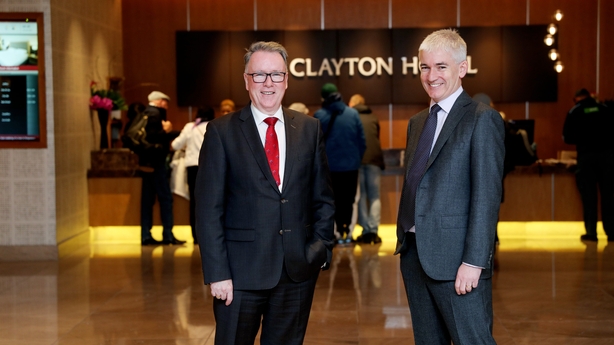 It said it continues to minimise the impact of lower revenues through proactive cost control and availing of government support.
Dalata said it expect hotels in the UK to re-open fully in the middle of May in line with the timetable set out by the UK government.
While the near-term outlook in Ireland is more uncertain, it said it remains encouraged by the acceleration of the vaccine roll-out and will re-open to all guests as soon as restrictions allow.
Dalata said it continues to progress its development pipeline of close to 3,300 rooms in new Dublin, London, Glasgow, Manchester, Liverpool, Birmingham, Bristol and Brighton hotels.
It also said it expects to open three new hotels before the end of next year.
The Maldron Hotel Glasgow and Clayton Hotel Manchester are scheduled to open in July and November 2021 respectively, while the Clayton Hotel Glasgow is on track to open in the second quarter of next year.
The phased return of construction in Ireland has started with residential construction re-opening in April and hotel construction expected to start in May.
"As a result, we expect the Samuel Hotel and Maldron Hotel Merrion Road to open in the fourth quarter of 2021 and the second quarter of 2022 respectively.
"Planning permission has been approved for Maldron Hotel Croke Park in Dublin with the hotel on track to open in the first quarter of 2024," it added.
John Hennessy, Chairman of Dalata, said the Covid-19 pandemic continues to have a significant impact on the business and since the start of January, hotels have been closed to the general public, serving customers related to essential services only.
"We continue to protect our strong liquidity. The company had cash and undrawn debt facilities of €272m at the end of March 2021" the chairman said.
As a result of careful cash flow management, the cash outflow of €21m for the first quarter of 2021 is in line with our expectations," he added.