Daa, which operates Dublin and Cork airports, has recorded a loss of €284m last year due to the impact of the Covid-19 pandemic on international travel.
Passenger numbers at its two Irish airports fell by 78% to just 7.9 million in 2020 from 35.5 million in 2019.
It noted that almost all of the airport retail outlets that daa operates in Ireland and overseas were closed for extended periods during the year and about 1,000 people have left the company's Irish operations over the past year.
Daa said its turnover sank by 69% from €935m in 2019 to €291m last year, as the reduction in passengers across all its markets led to a €644m fall in business activity.
Today's figures show that passenger numbers at Dublin Airport declined by 78% to almost 7.4 million last year - the first fall in traffic in a decade.
The last time that Dublin Airport had fewer than 8 million passengers in a calendar year was in 1994.
More than half of the 7.4 million people who travelled though the airport during 2020 did so in January and February of last year.
Meanwhile, passenger numbers at Cork Airport declined for the first time in six years last year.
Traffic at Cork - which had enjoyed a 25% increase in passenger numbers in the five years to 2019 - declined by 80% last year to just 530,000. Cork passenger numbers were back at 1988 levels last year.
Almost 60% of people who used Cork Airport last year travelled in either January or February, the daa said.
In line with Government policy, Dublin and Cork airports remained open throughout the pandemic and Dublin Airport imported more than 6.2 million kilogrammes of essential PPE and medical equipment on 356 flights operated by 16 different airlines.
It was also a key hub for vital exports during the year, as Ireland is a major producer of medical devices and pharmaceutical products.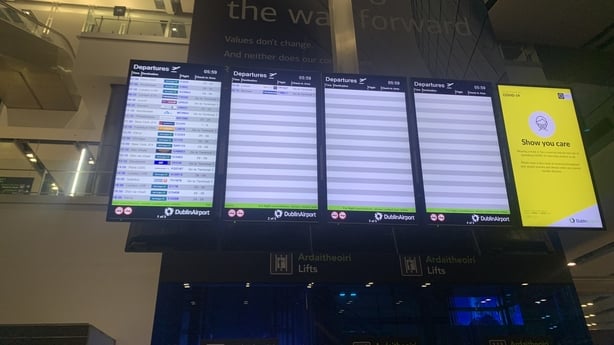 The Chief Executive of daa has called for a roadmap for exiting mandatory hotel quarantine and for an easing the blanket restrictions on overseas travel as the Covid vaccination programme rolls out.
Dalton Philips told RTÉ's News at One that the aviation industry "cannot just turn on a dime" due to a "huge amount of certification" that must take place before normal activity returns.
Mr Philips said "clear criteria" is required for how Ireland will exit mandatory hotel quarantine.
He said "Ireland is an outlier in Europe" in terms of restrictions and that a "charm offensive" will be required from government to attract airlines back to Ireland.
Mr Philips said there is a "narrative coming out of Ireland that is so negative" in terms of Irish aviation "because of our measures so restricted versus the rest of Europe."
He said this will significantly affect Ireland's competitiveness.
"Ireland's competitive positioning in this sector is going to be dramatically curtailed unless we have this roadmap. We've come together as an industry, we've given recommendations to the government, but we need substantive engagement from government on that plan."
He said it is critical that Ireland is involved with work to implement the proposed EU vaccine passport.
"It is critical that we are leaning into Brussels because there a lot of technology behind this. In parallel, we need to have our own sort of mitigation plans in case we fall behind. 26th of June is rapidly approaching. That's essentially when it's going to kick in. And this is a huge piece of work that needs to be undertaken by the state. We cannot fall behind."
Mr Philips said when Ireland reopens to international travel, the government will need to support the aviation industry.
"We're now dramatically falling behind. We will need that connectivity, when we reopen as a country, and we're going to need every Minister in the State with a passport on a plane, into those capital cities, working with the IDA and Enterprise Ireland to attract airlines back."
Daa said the pandemic continues to have a crippling effect on the Irish aviation and tourism sectors and in the first three months of this year, passenger numbers at the two airports have fallen by 92% compared to 2020.
"Our Irish airports have been one of the businesses that have been most negatively affected by the impact of Covid-19 over the past 13 months," Mr Philips said.
"Dublin and Cork airports lost 27.6 million passengers last year, which is more than 5.5 times the population of the State," the CEO said.
"The last time that Dublin and Cork airports had fewer than 8 million passengers in a calendar year was in 1994," he added.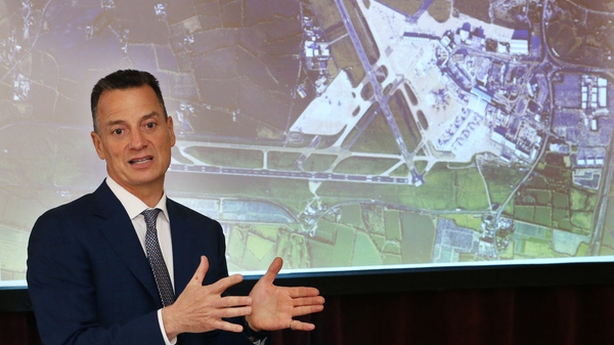 Mr Philips said that as vaccination levels increase, both at home and in many of our key overseas travel markets, Ireland must develop a roadmap for exiting mandatory hotel quarantine and for easing the blanket restrictions on overseas travel.
"The aviation industry in Ireland has recently submitted a comprehensive plan to enable the restart of international air travel to and from Ireland in a manner that continues to protect public health," he said.
"Having outlined our recommendations, the industry needs substantive Government engagement on this vital issue. Ireland must start planning now for putting in place a system that will allow for international travel again," he added.
Due to the significant impact of the pandemic on its business globally, daa moved quickly to reduce its costs last year.
Operating costs were reduced by 42% to €260m during the year, with costs cut by 58% between June and December last year.
Significant reductions were also made to planned operational and capital spending and daa reviewed its medium-term capital programmes and amended the delivery dates of certain projects.
A pay and hiring freeze was instituted, contracts were not renewed and the payment of profit share, gainshare and performance-related pay for 2020 was cancelled.
These and other measures meant that daa staff took a pay cut of between 20% and 45%.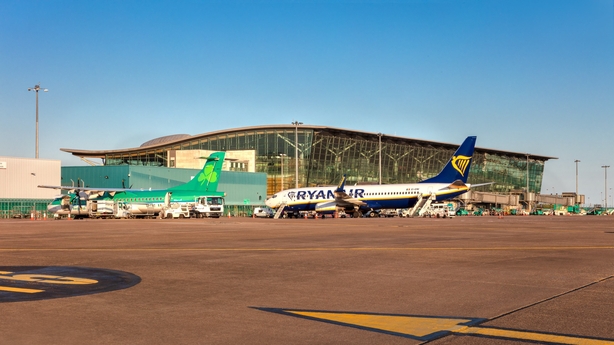 In addition to the almost 1,000 Irish-based staff have left the business, equivalent to almost one-third of the group's overall workforce in Ireland, another 1,000 people have also exited the overseas retail businesses operated by the group.
"We had to take some very difficult decisions over the past 13 months, and we had to move quickly given the severity of the crisis," Dalton Philips said.
"Our focus was on doing what was right for the long-term health of the business and as far as possible we worked in partnership with our people both at home and abroad," he added.
As well as operating Dublin and Cork airports in Ireland, daa has businesses in 15 other countries including Bahrain, Canada, Cyprus, India, Lebanon, and New Zealand. It runs Terminal 5 at King Khalid International Airport (KKIA) in Riyadh, Saudi Arabia through its daa International subsidiary.
It also has investments in Düsseldorf Airport in Germany and in Larnaca and Paphos airports in Cyprus. Its travel retail business Aer Rianta International (ARI) has outlets in 14 countries.