New figures from the UK Food and Drink Federation show that UK food exports to Ireland slumped by more than 70% in February after the UK's exit from the EU single market.
The Food and Drink Federation said that overall UK exports were down more than a fifth in February, driven by a fall in sales to the EU of 40.9% compared to February the same time last year.
The federation said that exports to most EU member states fell significantly, with Germany, Spain and Italy down by around 50% as well as that 70.6% drop to Ireland.
---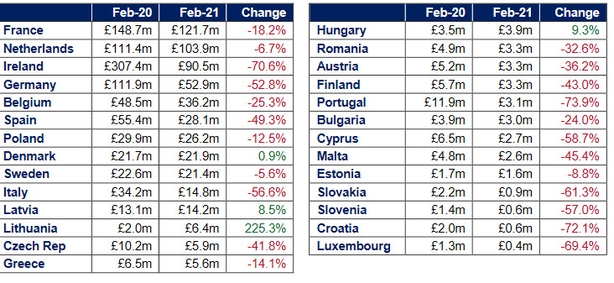 ---
It noted that exports of the UK's top 10 products all fell, except whisky.
The dairy and meat sectors were worst impacted, with sales of milk and cream to the EU down 96%, cheese exports were down nearly two thirds, and chicken and beef down by more than three quarters.
Meanwhile, imports to the UK fell by more than 10% in February, driven by a drop of 17% from the EU. At the same time, imports from the rest of the world increased by nearly 6%.
The Food and Drink Federation noted that imports fell from each of the UK's top six suppliers in February. These countries, all EU member states, supply around half of the UK's imported food and drink. Imports to the UK from Ireland were down over 31%.
Imports of the UK's top 10 products all fell in February this year - with the exception of chocolate.
Pork, chicken and beef were down more than 30% compared to February 2020. Fruit and vegetable imports on which the UK relies during winter, were down by 21% and 13% respectively.
---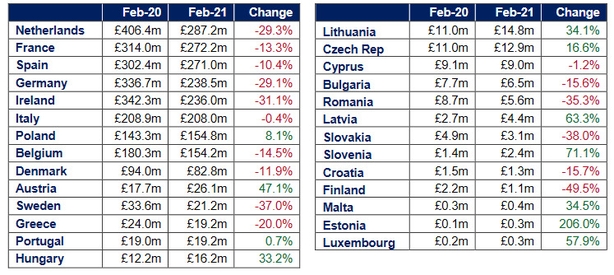 ---
Dominic Goudie, Head of International Trade at FDF, said that while UK food and drink exports to the EU have improved from a 76% fall in January, they are still down nearly 41% in February 2021.
"Exports to our biggest market, Ireland, have also dropped more than two thirds," Mr Goudie said.
"UK businesses continue to struggle with inconsistent and incorrect demands at EU borders, and small businesses have been hardest hit due to the collapse of groupage distribution into the EU," he added.