New figures from Gas Networks Ireland reveal that total gas demand for the first quarter of this year rose by 2% on the same quarter in 2020, with increased electricity demand powering much of this increase.
Gas provided 44.6% of power generation in the three months from January to March, up nearly 5% on the same time in 2020.
Wind's contribution fell 7.1% year on year to 39.1%, with increased capacity mitigated by reduced wind volumes in March.
Gas demand from transport rose by 104%, while data centres saw a 32% increase in demand in the first three months of the year, today's figures show.
Demand from the waste management (up 18%) manufacturing (up 10%), medical devices (up 10%) and pharmaceuticals (up 8%) sectors was also higher in the first quarter of 2021 compared to the same time in 2020.
But gas demand from laundry fell by 45%, while hotels saw a 23% fall. Demand from the office sector contracted by 19%, while retail saw a 12% drop and construction a fall of 5%.
Residential gas demand was down 3% year on year, mainly due to milder weather conditions in February and March, Gas Networks Ireland said.
Today's figures also show that gas demand for power generation grew strongly in March, rebounding from February.
Gas demand for power generation was up 8% on an annual basis, with gas providing an average of 47.4% of power generation in March.
Today's figures show that wind's share of electricity dropped 15% in March from its 12 month-high in February to 34.8%.
Meanwhile, coal provided 5.7% and peat 1.9% of the country's electricity supplies last month.
Gas Networks Ireland said that at its peak, gas provided 75.3% of power generation in March and 18.4% at its lowest.
Wind had a similar peak of 72.9% and dropped as low as 0.4% of generation at times.
Overall total gas demand in March was up 1% compared to March last year, with waste management (+68%), data centres (+11%) pharmaceuticals (+10%), manufacturing (+6%), education (+6%) and medical devices (+6%) among the sectors where gas demand rose year on year.
Compressed natural gas (CNG) demand from the transport industry also continued its strong climb, with average daily CNG demand up 11% month on month and up 113% year on year.
Demand from the office sector fell by 31%, with construction down 18%, retail falling by 17% and demand from the hotel sector down 12% in March.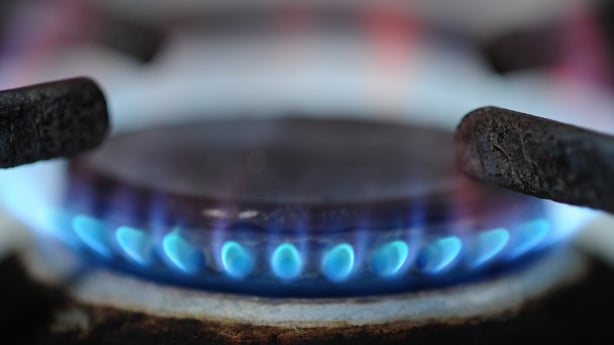 Average daily residential gas demand was down 4% month on month, with increased customer numbers offset by milder than usual weather, Gas Networks Ireland noted.
Gas Networks Ireland's Head of Regulatory Affairs, Brian Mullins, said that gas again highlighted its critical role in Ireland's energy mix, meeting an 8% increase in demand from February to March as the availability of wind to generate electricity fell significantly.
He noted that conditions for wind generation in March were quite varied with gas meeting up to 75% of the electricity generation requirements at times during March.
"We continue to see the effects of Covid-19 on certain sectors in the economy where gas demand continues to remain below normal levels, but this has been offset by gas demand growth in other sectors," Mr Mullins said.
He said the important potential of gas in transport cannot be overstated.
"Another 11% monthly increase in average gas demand is great sign for the decarbonisation of the transport sector indicating that more and more fleet operators are making the sustainable transition from diesel to cleaner, affordable compressed natural gas, or CNG, vehicles," he added.