The country manager for UK and Ireland of the Danish home retail brand JYSK has criticised the length of time involved in acquiring space to rent here.
Roni Tuominen claimed the company has found the process "very difficult" since it began operating here.
"In comparison to other European countries, we can issue and sign a lease contract within 2-4 weeks, whereas in Ireland, this is taking up to four months in some cases," he said.
In particular the company says the absence of a standardised lease agreement format is a problem.
It also claims huge delays can occur with the landlord's solicitor, while early stage enquiries about properties often take a long time.
JYSK also says there are issues with the speed of the planning application processes which takes a minimum of 12 weeks assuming no appeals and can't be speeded up.
The company has been trying to rapidly roll out a retail network here since it launched two years ago and has already opened nine outlets.
It has three more stores due to open this summer in Little Island in Cork, Carlow and Tralee.
But in order to drive its expansion forward, the firm says it needs more retail space, which is proving hard to secure.
"To achieve the volume of stores we want in the Irish market and increase job opportunities in regional areas, we need to secure a steady flow of new locations and that is something we're actively pursuing right now," Mr Tuominen said.
As a result, JYSK is inviting Irish landlords to contact it about retail properties of around 1,300 sq m that may be available across the country that it could lease.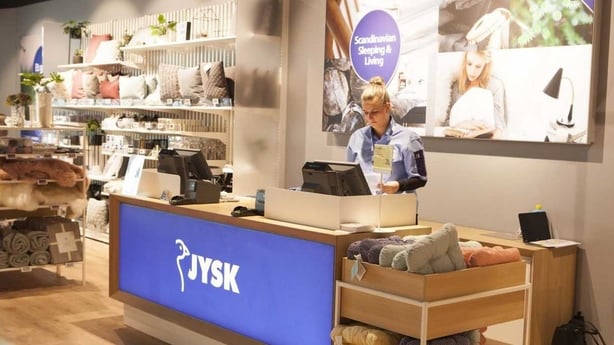 Financial results for JYSK UK and Ireland for the financial year 2019/2020 show total sales reached €41 million, an increase of 74%.
In July of last year, the company announced the merger of JYSK Ireland and JYSK UK to form one organisation.
JYSK was founded in Denmark in 1979 by Lars Larsen and now has operations in 51 countries, with more than 3,000 stores employing 26,500 people.