Grocery sales growth slowed to 8.4% over the past 12 weeks, according to the latest figures from Kantar.
Sales were down 5.5% year on year in the most recent four weeks, when compared to the record-breaking spending of March 2020. 
However, the data shows that grocery spending remains almost 20% higher than pre-pandemic levels in 2019.
The figures suggest that St Patrick's Day helped alcohol sales to grow by 25.8% over the 12 weeks, while Mother's Day and the build up to Easter saw an extra €2.9 million of chocolate gifts purchased.
While overall market growth is slowing, the Kantar data shows that online shopping continues to accelerate. 
Consumers spent €25.5 million more online than they did in the same four weeks last year.
Emer Healy, retail analyst at Kantar, said a year on from the start of the pandemic, lockdown is still having an impact on shopping habits.
"Over the past 12 weeks the market continued to grow.
"However, looking at the shorter-term picture supermarket sales actually fell over the most recent four weeks, as people spent €59.3 million less than in March 2020 when they were stocking up ahead of the first national lockdown," she said.
SuperValu holds on to its number one position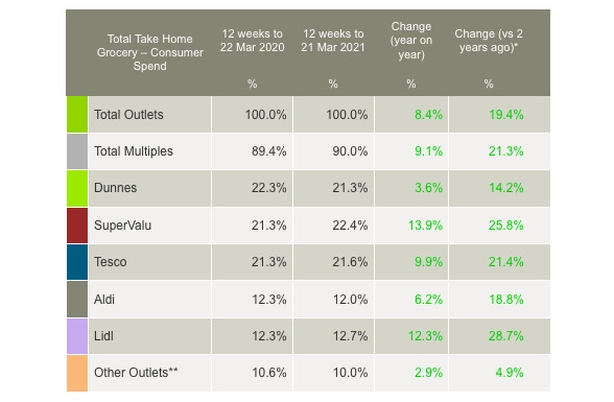 Of the retailers, SuperValu maintained its number one position and grew ahead of the market in the past 12 weeks, with sales up by 13.9% giving it a 22.4% market share.
Shoppers tend to make large trips to SuperValu and basket sizes continue to grow, it also was the only retailer to increase the number of visitors it welcomed into store in the latest period, which contributed an additional €2.9 million to its overall performance.
Tesco is currently the nation's second largest retailer, with 21.6% of the market.
Dunnes meanwhile grew by 3.6% to hold a 21.3% share.  
Lidl's growth was strong once more at 12.3% over the 12 weeks, it also increased share and now holds 12.7% of the market. 
It recorded the fastest growth of branded goods among all retailers.
Aldi currently has a 12% share, and grew by 6.2% over the past year, it made particular gains in Munster where sales increased by 7.7%.