The Deputy Governor of the Central Bank has said mortgage protection insurance providers must deal with applications from those whose jobs have been impacted by the Covid-19 pandemic, or the virus itself, on a case by case basis.
Sharon Donnery was responding to recent reports that some applicants whose employers are receiving Government pandemic wage supports, or who themselves had suffered from Covid-19, were finding it hard to get mortgage protection, which in turn was making it difficult to get a mortgage.
"I think the most important thing, and we have been clear with the institutions, that we expect them to do a case by case assessments of the individual circumstances of borrowers or people who are looking for mortgage protection insurance," she told Today with Claire Byrne on RTE Radio One.
"So we have been clear that you cannot simply say that because a customer is availing of the wage supports or their employer is availing of supports, or I think I heard you talking last week about people maybe who had Covid-19 – none of these can be used as a blanket based exclusion."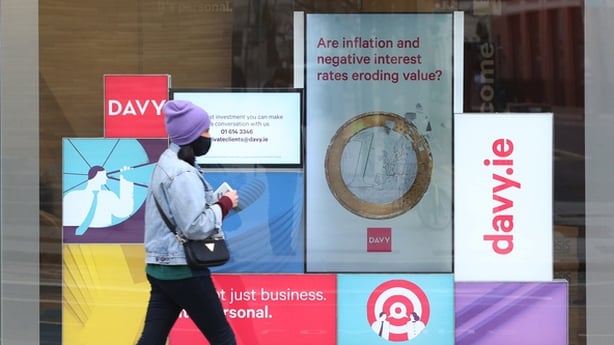 Regarding the recent fine of Davy stockbrokers for regulatory breaches, Ms Donnery said the Central Bank's ongoing supervisory engagement with all firms, including Davy, continues.
She said the bank has concluded the "specific enforcement case and there are a number of other issues we will be engaging with the firm on."
"People will be aware that we are looking for some more powers in terms of individual accountability more broadly, not necessarily in relation to Davys, but which would enhance the approach we can take to enforcement cases," she stated.
Ms Donnery said the debate on culture in financial institutions has changed very substantially since the financial crisis with regulators and public expecting firms should go about their business properly, protect customers and work to rebuild wider public trust.
"I think that responsibility is on the firms," she said.
"We set out very clearly what our expectations are and when firms don't meet those expectations then we take enforcement action…"
Ms Donnery told the programme that the bank estimates between €10bn and €11bn in total savings has been amassed by some households during the pandemic and a portion of that could be released into the economy once the recovery takes off.
She said it would not be a good idea to incentivise people to spend in parts of the economy where they are already planning to do so.
"But there are other parts of the economy which have been very negatively effected, where people have lost their jobs and so on, so if there are going to be supports and so on, they need to be very tailored, very targeted to the people who need them most, and not to sort of encourage people who already have money and plan to spend it, to spend it," she added.
Some of the money may go into the property market, Ms Donnery claimed, through deposits to buy houses and home improvements.
That would be a valid thing to do, she said, but might draw workers away from building homes and that would hit supply.
An influx of money into the property market at a time of weak supply could also put upward pressure on prices, she stated.