The unemployment rate, including those receiving temporary Covid-19 jobless benefit, fell slightly to 24.2% in March from 24.8% in February, as the Covid-19 crisis continues to have a significant impact on the labour market here.
New figures from the Central Statistics Office show that excluding all those on the Pandemic Unemployment Payment, 5.8% of the workforce were registered as unemployed for the fourth successive month.
This compared to a jobless rate of 5% in March last year.
Today's CSO figures show the monthly unemployment rate for men was 5.7% and 5.8% for women.
Breaking the results down by age group, the jobless rate for those aged 15 to 24 years was 14.9% while it was 4.7% for those aged 25 to 74 years.
Meanwhile, the Covid-19 adjusted measure of unemployment showed a jobless rate of 24.6% rate for men and 23.7% rate for women.
It also revealed a jobless a rate of 59.2% for those aged 15 to 24 years and 20.3% for those aged 25 to 74 years.
The CSO also noted that at least 8.1% of all PUP recipients are certified as attending full-time education.
Jack Kennedy, economist at global job site Indeed, the small drop in the Covid adjusted rate of unemployment is a good sign that even under the most severe lockdowns, the jobless rate is going down and some people are finding work.
"The massive cultural and economic upheaval this pandemic has brought has also provided an impetus to re-examine the way we work," Jack Kennedy said.
---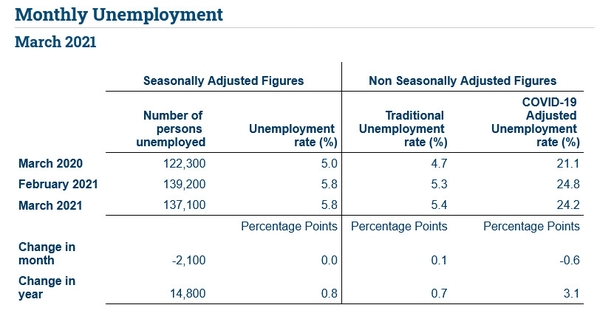 ---
"The new rural development plan launched by Government shows that remote work and decentralisation will become a bigger part of working life in the future. This is good news for those in rural areas with fewer job opportunities, as with decentralisation better infrastructure and a more evergreen local economy will likely follow," he added.
The economist said one development that will be interesting to watch is whether customer facing jobs in Dublin permanently disappear or move somewhere else.
"Remote work is greater and more persistent in larger cities due to a larger amount of professional services jobs, a trend we see across Europe. This, coupled with the reallocation of work away from city centres, could suggest a difficult adjustment period for some urban workers," he added.