The past year has been among the toughest Emirates has ever had to endure, its country manager for Ireland, Enda Corneille said.
As with all other airlines and many businesses across the world, the company has had to refocus its operations.
Mr Corneille spoke to us about how he has been managing the Irish leg of the business throughout the pandemic and when he expects holiday-goers will take to the skies again.
'A slow road to recovery'
Pre-pandemic, Emirates was flying to 161 destinations, in 85 countries, across six continents from its hub in Dubai.
At the moment, they are flying to just over 90 destinations, with 610 flights per week out of Dubai.
The number of flights per week out of Dublin has been cut from 14 flights pre-pandemic, to four flights now.
"It will be a slow road to recovery and realistically I cannot see any substantial increase (in flights) before this autumn at the earliest," Mr Corneille said.
Despite this, Mr Corneille said there has been a noticeable uplift in confidence regarding international travel and they are seeing pent-up demand.
He said the double decker A380 will remain their flagship aircraft for the next decade and they will re-deploy it on more routes as travel demand returns.
"I believe that individual countries are gearing up for travel later in 2021 and while there will be variances between markets based on the prevalence of Covid-19, the rate of vaccine roll-out and local government responses and restrictions, we can certainly sense that the recovery is on the way," he said.
When that time comes, Mr Corneille said the airline is "well prepared" to welcome back passengers.
Rebuilding confidence will be 'crucial'
Emirates places "utmost priority" on the safety of its passengers and staff, said Mr Corneille.
"Our focus has been on adhering to and indeed, going beyond health and safety guidelines and putting in place safety measures of the highest quality as well as training our staff," he said.
All of Emirates crews that are flying have been vaccinated and Mr Corneille said the airline provides passengers with a complimentary hygiene kit.
"These contain gloves, a face mask, antibacterial wipes and a hand sanitiser," he explained.
"Our check‑in desks are fitted with protective antimicrobial screens and we've added spacing stickers on the floor to help everyone maintain a safe distance in the queue," he added.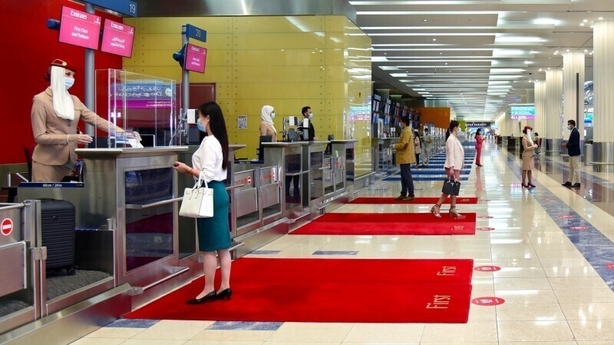 Mr Corneille also pointed out that Emirates was the first airline to offer free health cover for passengers.
"Hopefully all these factors will encourage bookings for later in the year," he said.
While the vaccine roll out ramps up across the world, Mr Corneille said he believes such health and safety measures will remain in place for the foreseeable future.
"I imagine that in time, as herd immunity builds, things may change.
"The challenge is that every country will have different regulations and immunity rates, and given the potential for hundreds of nationalities to travel in one aircraft at any one time – it's likely that we will see measures maintained for some time to come," he said.
With this in mind, rebuilding confidence will be "crucial", according to Mr Corneille.
"I do see demand starting to build by the third or fourth quarter of this year, with some semblance of normality by the first or second quarter of 2022," he added.
Business model will remain unchanged
Emirates' business model will remain unchanged in terms of global connectivity and scale, said Mr Corneille.
If we look more broadly across the sector, he said the business models of many other airlines may change. 
"Routes that had been scheduled for launch may be deferred – or even cancelled entirely.
"Some airlines may also defer new aircraft purchases," he added.
However, he said the aviation sector has always been categorised by challenges.
"Foot & Mouth, 9/11 and many more and, as a sector, we have always managed to navigate these challenges, adapting deftly to new market conditions, so I remain cautiously optimistic for the future," he said.
Cargo operation has been the 'standout star'
Last year, the airline posted its first loss in more than three decades.
When passenger travel ground to a halt on the 25 March 2020, just over a year ago, Emirates shifted its focus to cargo services.
"We were able to resume cargo services two weeks later and it has really helped us to navigate some of the many challenges as the pandemic progressed, being a significant part of company revenue," he said.
Mr Corneille said their cargo operation has always been significant.
"When we operated double daily flights, we carried over 700 tonnes of cargo per week in the belly of each aircraft.
"When the pandemic hit, we began a bi-weekly cargo operation, which has since increased to four flights weekly, with each aircraft carrying 35 tonnes of Irish produce to Dubai, Asia, Australia and elsewhere - as well as carrying PPE mainly from Japan," he said.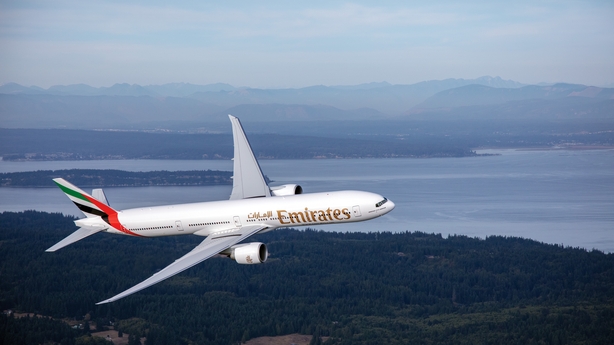 He said their SkyCargo operation has been the "standout star" since the onset of the pandemic. 
"It has been a huge focus for us, as it ensures important supply chains remain open and that Irish exporters have access to markets in the Middle East, Asia and Australia," he said.
According to Mr Corneille, their cargo operation in Ireland has seen a new peak in demand since the start of this year, due in part to Brexit causing delays in trucking goods, as well as more paperwork demands.
While the focus is very much still on cargo, Mr Corneille said they have the measures in place to be ready to refocus on their commercial operations when the time is right.
'We must right-size our workforce'
Like many businesses, Emirates has had to make some staff redundant as a result of the pandemic.
While the company has slowly restarted operations, Mr Corneille said their footprint is "significantly" smaller than before.
"It will take a while for us to recover to pre-pandemic levels.
"Like any responsible business, we must right-size our workforce in line with our reduced operational requirements.
"Our people have always been a big contributing factor to our success, so this is not an action that we relish, nor one that we take lightly," he added.
Moving forward
While aviation has been one of the sectors hit hardest by the pandemic, Mr Corneille said Emirates has learned a lot over the past 12 months.
"We learned that even as a global business we could be agile and react quickly to the fluidity of the situation, which was different in every market.
"We also learned how to pivot our own business.
"Being flexible and being able to rapidly adjust as the situation unfolded, was a big learning for us and I think we can take these learnings forward to better prepare for the future ahead," he said.