Consumer sentiment improved to its best level in 12 months in March, according to the latest KBC Bank Ireland consumer sentiment index. 
The report said the increase in consumer confidence was driven by a further easing of concerns about the outlook for the Irish economy and jobs – which it said was likely prompted by positive economic data and the promise of widespread Covid-19 vaccination.
However, the report states that consumers remain cautious about their own financial circumstances and are still careful with their spending.
The KBC Bank Ireland consumer sentiment index rose to 77.1 in March from 70.8 in February.
That is the second month on month increase, which reverses the sharp fall in January, following the sharp increase in Coronavirus cases.
The data suggests an increased capacity to handle the economic and financial fall-out from the pandemic - based on the expectation that some element of normalisation is not too far away. 
---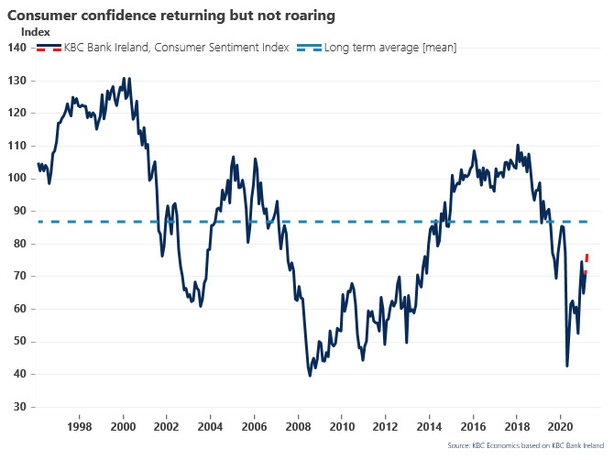 ---
The figures show that the strongest monthly improvements in the March report were seen in the forward-looking elements of the survey dominated by the 12 month outlook for Irish economic activity and jobs.
"The release of data showing Ireland bucked the international trend by reporting positive GDP growth in 2020 allied to a diverse range of new investment and job announcements during the survey period undoubtedly supported more positive readings in these elements of the survey," said Austin Hughes, KBC Ireland's chief economist.
"Supportive policy announcements in the shape of a substantial fiscal package in the US and a step-up in ECB bond buying may also have assisted but the major contribution to improved sentiment may have come from increased expectations in relation to the future roll-out of vaccines and the associated opening up of domestic economic activity," Mr Hughes added.
The survey found that roughly one-in-four consumers expects the Irish economy to strengthen in the coming year but this is about half the number that expect further weakness.
"Encouragingly, views on the outlook for jobs are more positive in that the numbers of consumers expecting stronger and weaker unemployment in 12 months' time are roughly equal," Mr Hughes said in the report.
Savings
The findings of the survey suggest that additional savings in 2020 were concentrated among higher income and more "financially comfortable" consumers.
35% of consumers questioned say that they did not build up any additional deposits with this share rising notably for lower income and financially strained consumers.
These responses underscore the uneven nature of pandemic impacts across Irish households and the broader Irish economy, the report states.
22% of households say they will set aside these additional savings for emergencies while a further 9% will put them towards a particular future outlay such as home purchase or renovation, or education.
---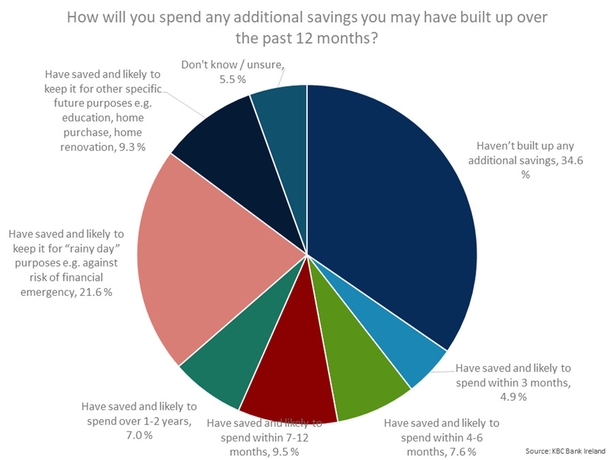 ---