Relocating Dublin Port to a new greenfield site would cost up to €8.3 billion and would take not less than 20 years, an analysis carried out by Dublin Port Company (DPC) has found.
However, the port operator also concluded that it would be near impossible to get planning permission for a massive new deep-water port elsewhere because of environmental impacts.
It also stated that it would probably take at least ten years just to resolve the planning challenges involved.
The port company is opposed to moving Dublin Port completely from its current location.
The conclusions are contained in one of seven papers published by the DPC as part of a dialogue on how to resolve the port's capacity challenges after 2040.
DPC estimates that it will reach its maximum throughput capacity sometime between 2030 and 2040, meaning more port capacity will be needed elsewhere on the east coast of Ireland to cater for additional growth.
But given the length of time it would take to develop such capacity, DPC says planning for such projects needs to start now if it is to become available in time.
One option suggested is that a supplementary port could be developed in a location such as Bremore in Balbriggan in north Dublin or in Arklow in Co Wicklow.
Doing this would cost as much as €4.1 billion in the case of Arklow and €4.5 billion if it were to happen in Bremore.
This, however, assumes financing and consents can be secured, which would pose enormous challenges, DPC said.
Construction would have to start on such a project by 2033 if it is to be operational by 2040.
But the DPC also stated that state support will be necessary if the projects are to come to fruition as none of the projects and port companies have the ability to raise the required finance.
"We need to plan for how, when and where additional port capacity might be provided on the east coast of Ireland by 2040," said Eamonn O'Reilly, DPC chief executive.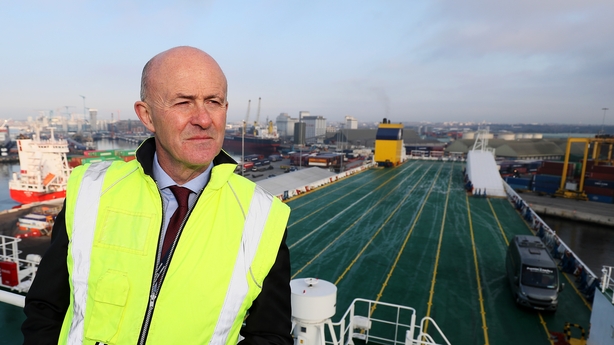 "We know from experience that 20 years is a relatively short period in the context of delivering large scale infrastructure projects, let alone a once in 200 years megaproject, which the construction of a new additional greenfield port would be," Mr O'Reilly stated.
In the meantime, DPC is preparing to deliver the final strategic infrastructure development project that will provide the maximum capacity outlined in its 2040 masterplan.
This will allow the port to handle as much as 77 million gross tonnes of cargo a year by 2040 and without it limits will be reached closer to 2030.
It would see the development of port lands on the Poolbeg Peninsula and the construction of a new bridge to provide a southern port access road.
However, planning for this third phase of the plan, known as the 3FM Project, has not yet been secured.
DPC said growing to that level of capacity will also require that the efficiency of port operations is greatly increased so it is used to its maximum.
As part of the process, the DPC has invited individuals and organisations to challenge its thinking by submitting ideas and view on the seven dialogue papers by the end of June.
The papers can be viewed at https://www.dublinportpost2040dialogue.ie/.
"This is everyone's opportunity to help answer important questions in the national interest about the environmental, planning and financial challenges that lie ahead in providing the future port capacity needed for the long-term," Mr O'Reilly said.