The chief executive of Bank of Ireland has said that the bank may look at embattled stockbroker Davy which has been put up for sale.
Francesca McDonagh also confirmed that if the lender were to purchase another "entity" not subject to the bankers' pay cap, it would ask the Minister for Finance for permission to maintain its normalised remuneration arrangements.
Addressing the Oireachtas finance committee, Ms McDonagh said varying staff pay based on performance can be a very good thing if done appropriately.
She was responding to questions from Solidarity-PBP TD Mick Barry, who asked if Bank of Ireland were to buy another entity where the pay cap and ban on bonuses doesn't apply, would she rule out allowing bank staff to move to it so that they were no longer subject to the ban and cap.
"We would certainly be supportive of normalisation of pay subject to agreement with the Minister for Finance," she said.
It was recently reported that Bank of Ireland could be interested in purchasing Davy, which was put up for sale following a record fine from the Central Bank for regulatory breaches.
Ms McDonagh confirmed the bank "may look" at the opportunity, as it would with a variety of opportunities.
But she said it would be premature of her to comment further on what could happen in a process that had not actually started yet officially.
"If we were to acquire an entity where bonuses and variable remuneration are paid in a normalised way, as is in the case for every other non-Irish bank in Ireland and every other corporate entity in Ireland…then I would certainly be looking at opportunities to normalise pay," she said.
She said the group's chairman had written in its most recent annual report about the need for normalisation of remuneration.
"We've repaid the taxpayer in full," she stated.
"Irish banks are severely restricted and treated uncompetitively compared to our normal Irish peers who we compete for talent and for customers for here in Ireland and also other banks in Europe and the UK, and also other Irish entities where we compete for digital skills, for finance skills, customer service skills."
She added that she appreciated that given where the Irish economy is now, it is highly contentious to talk about bankers' bonuses. 
But she said that when she thinks about the future and the recovery of the Irish economy, having Irish only banks being restricted in a way that other banks are not is anti-competitive and makes it very difficult to retain and attract key talent needed to maintain a profitable and sustainable Irish banking sector.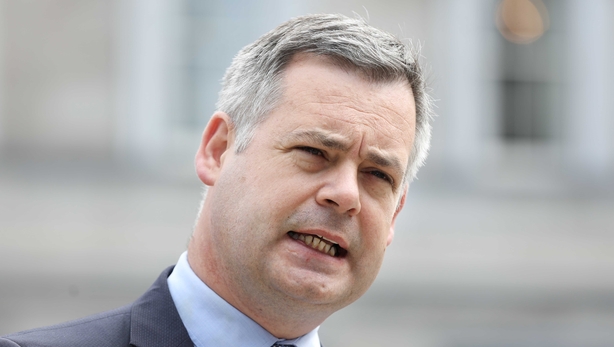 Ms McDonagh was also asked by Sinn Féin's, Pearse Doherty, whether Bank of Ireland has witnessed scenarios where borrowers could not draw down mortgages as they could not get mortgage protection cover because they have an underlying medical condition that puts them at greater risk from Covid-19.
She said the bank does require people to have insurance cover when taking out a mortgage, but she added that she was not aware of specific cases like those referred to by Mr Doherty.
Mr Doherty said New Ireland insurance, owned by Bank of Ireland, had changed its criteria since May of last year and now requests that people identify whether they have had a Covid symptom in the last three months, and that underlying conditions are also being taken into account. 
Ms McDonagh said she would be aware of changes that the bank would make, but she added that it is in the business of supporting customers to get a mortgage.
"I'm not seeing a material volume of complaints or cases that are being brought to my attention to demonstrate that our life protection is in any way prohibiting people from taking out a mortgage," she said.
She added that every single application is examined on its merits and the bank wants to ensure people are able to have a mortgage that is sustainable.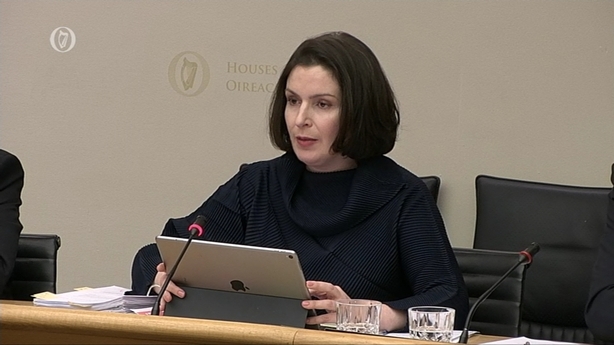 The Bank of Ireland boss also told committee members that it will not be reassessing its decision to close 88 branches in the Republic of Ireland.
She said the decision had not been taken lightly and added that the bank had looked over a long period of time, even before the Covid-19 pandemic, at customer behaviours and preference.
Ms McDonagh said that of all the 88 branches closing three out of four customers using them haven't set foot in one in the last 12 months.
"We are not in the business of closing busy branches," she stated.
"We are responding to a shift in customer behaviour."
She added that the shift to digital is permanent and established.
In an opening statement sent to TDs and Senators in advance of today's appearance she said trends and not the "excuse" of reduced footfall during the pandemic are behind Bank of Ireland's decision to close 88 branches in the Republic of Ireland, Ms McDonagh said.
She also defended the decision, saying the migration to digital has been a reality in banking for many years.
It comes as the Financial Services Union (FSU) called on Bank of Ireland to reconsider its position on branch closures.
At the start of the month, the bank said it would shut 103 branches across the island of Ireland from September, drawing criticism from unions, business groups and rural development bodies.
"I have seen our branch announcement interpreted as the bank using reduced footfall caused by the pandemic as an excuse to close branches," Ms McDonagh wrote.
"This is not the case. Customer trends have been moving in one direction ever since the advent of mobile technology and online banking.
"While changes in customer behaviour across a range of sectors have been accelerated by the pandemic, the migration to digital has been a reality in banking for many years."
Ms McDonagh said the bank's experience is that once customers see that they can open an account, transfer money, set up a direct debit, pay a bill, and even get a mortgage approved on their smartphone, they prefer to bank in this way.
"This is an experience we share with many service businesses, from supermarket grocery delivery to newspaper subscriptions, once people switch online, few revert," she claimed.
Commenting on the decision of NatWest to withdraw from the Irish market, she said this reflects the realities of a challenged sector.
"Our belief is that the attraction of private capital into the sector and the economy is the path to create a sustainable, robust and more normalised retail banking sector," she claimed.
"To attract private capital into the Irish market we need to ensure that the legislative and regulatory environment can address and support the banking challenges of 2021 and beyond."
Ms McDonagh said a debate is needed about the future of the banking sector.
"In Ireland, discussions on banking often generate more heat than light," she said.
"I fully understand why that is, but I believe this poses a risk to a sector which plays a significant role in supporting the domestic economy, while also employing tens of thousands of people across the country."