Almost half of home workers admit to working more at weekends than before the lockdown, according to new research by Bord Gáis Energy.
The survey of 1,000 people, which examines how the nation is spending their time in lockdown, shows that 71% are struggling to make the weekends feel different from Monday to Friday.
53% of people polled admit to using their free time at the weekends for more mundane tasks like doing the household chores.
However, 63% say they try and make the weekend feel different by using their free time to enjoy the great outdoors, while a quarter have a designated date night at the weekends.
Almost half have been investing their free time in a new hobby or skill; 32% say they have taken up running, cycling, or walking; while 31% have started baking and 19% have become involved in arts and crafts.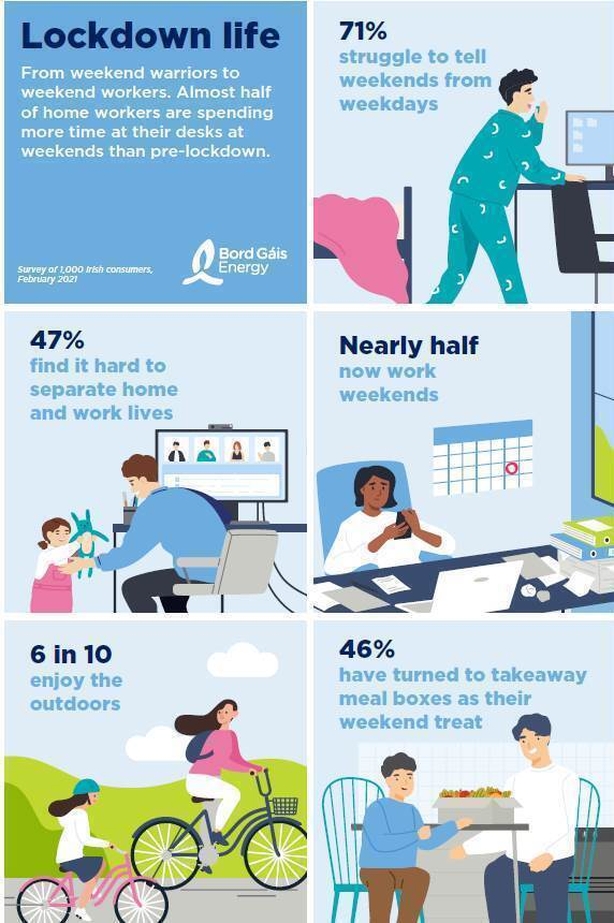 While there have been positives to spending more time at home, the latest Bord Gáis Energy research highlights that consumers are concerned about energy usage, given the increase in time spent within their household.
Heating and lighting use are the biggest concern among respondents, with 61% saying their usage has increased substantially, while 42% have been using more Wi-Fi and personal appliances.
The study was carried out to mark the launch of Bord Gáis Energy's new range of smart plans for those with smart meters installed.
The smart plans include a choice of either 'Free Time Saturday' or 'Free Time Sunday' offers, giving Bord Gáis Energy customers free electricity between 9am and 5pm on their specified day at weekends.
Bord Gáis Energy's 'Discount Weekend Plan' also gives customers a night rate all weekend, meaning lower energy costs from 11pm on Friday, right through to 8am on Monday.
Colin Bebbington, Retail Director at Bord Gáis Energy said the roll out of smart meters in Ireland will allow households to access detailed information about their energy usage, which can help improve energy efficiency.
"We're hoping our new smart plans and Free Time Saturday and Free Time Sunday offers will help in motivating Ireland to smarten up around energy usage at weekends – and inspire them to use their own energy and free time to brighten up their Saturdays and Sundays, and enjoy the things they love," she said.