Property prices across the country rose by 2.6% in the year to January, according to the latest figures from the Central Statistics Office, its fastest rate of growth since May 2019.
This was an increase on the 2.2% recorded in the year to December.
Prices for properties in Dublin rose by 1.1%, to mark only the fourth time they have increased on an annual basis since July 2019.
Meanwhile, the CSO said that residential property prices in the rest of the country rose by 4%.
In Dublin, the price of houses rose by 0.6% while apartments rose by 3%. Outside of Dublin, houses rose by 3.8% while apartments rose by 7.5%.
Overall nationally, residential property prices have risen by 88% since their lowest point in 2013. Prices are 15.7% below their 2007 peak.
The price of new dwellings, which is measured on a quarterly basis, was 2% higher in the final three months of 2020 compared to the same period in 2019. Existing dwellings were 0.2% higher.
But the volume of houses sold is still down. There were 3,484 household purchases registered with Revenue in January, down 5.6% compared to January last year.
It also marked a 30.2% reduction on the number of purchases registered in December.
---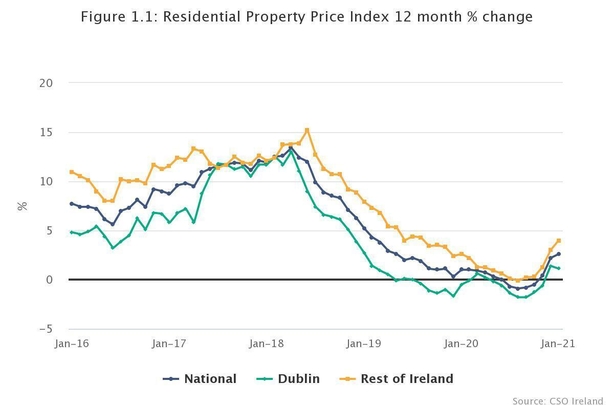 ---
Today's CSO figures show that existing dwellings made up 81% of purchases. First time buyers accounted for 33.4% of purchasers, movers 53.1% and investors 13.5%.
They also reveal that the median or mid-point price paid for a property was €261,000 nationally. In Dublin, it was €385,000.
The postcode with the highest median price was A94 Blackrock, in south county Dublin, at €622,500.
Outside Dublin, it was A63 Greystones in Co Wicklow at €450,000.
The least expensive median price was recorded in F45 Castlerea, in Co Roscommon, at €80,000.
Commenting on today's figures, Goodbody economist Dermot O'Leary said they provide some early evidence of the impact of working from home on locational preferences.
Dermot O'Leary said that transactions in Dublin have fallen most in the country over the past three months, with deals down 15% on an annual basis compared to declines of 2% at a national level.
He noted that the best performing regions have been the southeast, Midlands and West where prices are substantially lower.
"Clearly, increasing prevalence of WFH has made it possible for many to live in these locations," he said.