Around 850 staff have already left Dublin and Cork airport operator daa since the Covid-19 pandemic began last year and around 150 more are set to exit the company in the coming weeks, staff have been told.
The total expected reduction of 1,000 Irish based workers represents around a third of the total employed by daa in Ireland.
A further 1,000 will also leave the Aer Rianta International operations abroad as part of the restructuring of it.
The information was disclosed in a memo to staff from daa chief executive, Dalton Philips, who said, "these and other measures have generated very significant payroll cost savings."
Including non-payroll cost reductions, overall costs were reduced by 50% between April and December of 2020, he added.
He also informed staff that all those who work in areas where work practice changes have been accepted will return to 100% working time and pay from March 28 until at least September 11.
However, employees have also been told they must significantly reduce annual leave and time off in lieu (TIL) balances by taking 20 days between the end of this month and September 11.
"This will help prepare the business for the recovery when it does come," Mr Philips said.
"Understandably, leave balances have built up last year, and TIL balances were not reduced by as much as would usually be the case. There is now an urgent business need to burn down this leave and TIL to enable us to be ready to operate at full speed as soon as restrictions ease."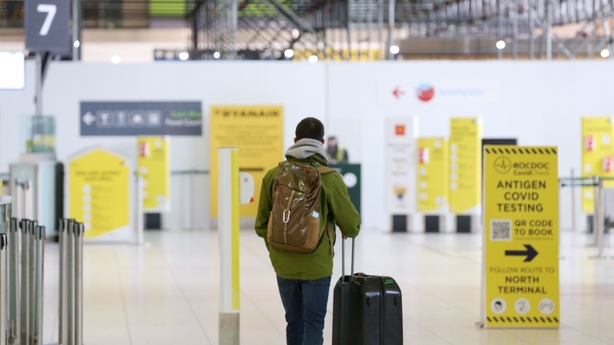 Nearly all daa workers have been paid 80% of their salary for the last 11 months, with no performance related pay, gain share or profit share payments last year and no overtime.
This resulted in cuts of up to 45% in some people's take home pay.
"We firmly believe that we need to continue to do right by you, because you have done the right thing by the company," he said.
"But we have to be mindful of the significant uncertainty that still remains."
Mr Philips wrote that much had changed since the company indicated in December that it hoped to restore pay levels from March 28, including new strains of Covid-19 that have meant passengers numbers have fallen back to a trickle again.
"Unfortunately, despite all our collective efforts, the business is still in a difficult place, as passenger numbers remain very low at Dublin and Cork airports," he said.
"At this point, we are not able to accurately forecast how things might look in the second half of this year."
But he added that there are significant positives including the rollout of the Covid-19 vaccine and a huge underlying demand for international travel. 
However, he also warned that given the uncertainty, the company may need to amend the pay position again.
"This year is going to be another difficult one for us, but we have taken huge steps to meet the financial challenges that Covid created," he added.
"We also need to continue to manage the business carefully through this crisis and we intend to do that. This business will recover, but it's going to be a long and hard journey, which is why I'm so glad that so many of you have agreed to work differently to protect and rebuild our business."