Refurbed, an online marketplace for refurbished electronic devices in Europe, has officially launched an online store for Ireland. 
The company said it saw the need for a new European store for Irish customers in the aftermath of the Brexit transition, which would avoid custom delays on purchases.
"Having seen the negative impact that Brexit has had on Irish customers who wish to buy from UK marketplaces, we wanted to ensure Irish consumers had an alternative, hassle-free option to purchase electrical goods online at a reduced price," said Peter Windischhofer, Co-Founder of Refurbed.
Founded in Vienna in 2017 by Mr Windischhofer, Kilian Kaminski and Jürgen Riedl, Refurbed is now operating in five countries - Austria, Germany, Poland, Italy, and now Ireland. 
The online store offers over 8,000 electronic products including refurbished smartphones, laptops and tablets, and will launch 120 of their most popular products on the Irish site.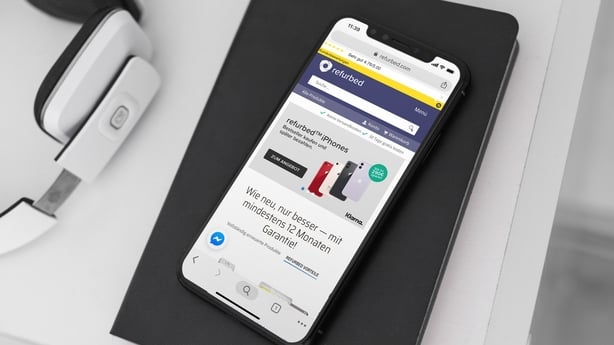 According to Refurbed, refurbishment results in 70% less CO2 than when manufacturing.
The company is a CO2 negative organisation - for every product sold, it plants a tree to offset carbon emissions created during the refurbishing process.
The trees are planted in countries such as Haiti, Madagascar, Kenya, Indonesia and Mozambique or Nepal through their partnership with Eden Reforestation Projects.
To mark their entry into the Irish market, the company is running a "Go Greener for St. Patrick's Day" campaign.
From the 11 March to 21 March, the company will plant two trees instead of one for every sale in Ireland, through their partnership with Eden Reforestation Projects. 
"We strive to protect the environment and with purchases from Refurbed, you not only actively reduce electronic waste but you also assist in reforesting woodland and reducing CO2 emissions. We are proud to be going even greener for St. Patrick's Day with our establishment here," said Mr Windischhofer.
To date, Refurbed has raised €18 million including a €16 million Series A round in 2020.
With the market for refurbished electronics in Europe set to surpass €10 billion by 2022, the company said it will look to further expand across the continent.