AIB has reported a loss after tax of €741m for the year to the end of December on the back of an expected credit loss charge of €1.46 billion and exceptional items of €215m. 
But it said it expects to return to profit and resume normal dividends this year, as it predicted a recovery in lending. 
AIB chief executive Colin Hunt said the €1.46 billion provision was "prudent, conservative, comprehensive and forward-thinking".
"But even after taking that very substantial provision, which is at the upper level of the European range, we still have one of the strongest capital ratios in Europe," Mr Hunt said on Morning Ireland.
"We have a core capital ratio of 15.6% which is one of the best you'll see out there, and that really underpins our confidence in the future," he added.
AIB said the challenging operating environment for European banks remained in 2020 with the continued lower for longer interest rate backdrop and uncertainties created by the Covid-19 pandemic. 
The bank said it granted 66,000 payment breaks customers to help support them during the Covid-19 crisis, adding that 88% of these have returned to normal terms.
Its total income reduced by 12% for the year, which it said reflected a 10% decline in Net Interest Income (NII) and a 19% decline in other income.
Customer deposits increased 14% to €82 billion last year, with the growth in savings due to Covid-19 restrictions adding to excess liquidity.
AIB said its new mortgage lending in Ireland reduced by 21% in the year to €2.3 billion and its personal lending was 10% lower than the previous year.
Despite the various challenges of Covid-19, AIB said the Irish mortgage market remained resilient in 2020 and after a strong start to the year, its market share stood at 28.4%. 
Amid the high uncertainty due to the pandemic, AIB said it had temporarily amended its credit policy to protect customers from taking on unsustainable debt until their situations were more thoroughly assessed. 
"While there is a lag in drawdowns, our new application pipeline has recovered to pre-Covid-19 levels," it added.
Meanwhile, its Irish SME new lending in the year was broadly flat in 2020 compared to 2019. It said that SMEs continued to face numerous challenges, including the impact of Covid-19 restrictions and Brexit uncertainty and the sector remains in receipt of government supports. 
We need your consent to load this rte-player contentWe use rte-player to manage extra content that can set cookies on your device and collect data about your activity. Please review their details and accept them to load the content.Manage Preferences
AIB to lower threshold for negative interest rates
AIB CEO Colin Hunt also confirmed today that AIB plans to lower the threshold at which negative interest rates will apply to deposits. 
He said AIB had insulated customers from the impact of negative rates from 2014 until 2018, when it first applied them to corporate customers and non-bank financial institutions.
Since then the cohort of customers liable to negative rates has been increasing, he added. 
"As of today all customers, corporate, business, personal are liable to negative interest rates on balances above €3m," he told RTE News. 
"And over the course of the next two quarters we are going to reduce that threshold for all customers down to €1m. That will be in place by the time we get to the end of the third quarter of this year, with the exclusion of charities," Mr Hunt added. 
Last month AIB announced the potential acquisition of a €4 billion portfolio of performing corporate and commercial loans and the transfer of employees to AIB from within Ulster Bank's commercial franchise directly involved in the day to day management of the loan book.
Speaking on Morning Ireland, AIB's chief executive Colin Hunt said the bank hopes to conclude the negotiations and its due diligence over the course of the next number of months. 
"There is a chance we will have those assets on the balance sheet and welcome 5,000 customers to AIB Group by the end of this year," Colin Hunt said. 
"This will put AIB's position as Ireland's leading business and corporate bank beyond debate, beyond doubt," he said, adding that because of the strong capital position the bank is in, it is able to do this transaction and the other deals. 
In relation to Ulster Bank's wind down in the Republic of Ireland, Mr Hunt said AIB is not interested in acquiring any aspects of that business, beyond the €4 billion in corporate and commercial loans it is in the process of buying. 
Mr Hunt said that AIB remains committed to its branch network here, despite the decision earlier this week by its competitor Bank of Ireland to close 88 branches. 
AIB is currently in the process of closing five branches around the country, but Mr Hunt said the remaining branches remain "vitally important".
"I want to deliver our services to our customers in the way they want them to be delivered," he said. 
"The vast majority of transactions, everyday transactions, that the bank does on behalf of customers are now done online," he said.
"But that doesn't in any way debase or demean the importance to us of that network. Sustainable communities is one of the strategic pillars of the group and we think it is really important to be fully embedded in the communities we serve," the bank CEO said. 
Mr Hunt also confirmed that the bank intends to stick to its target of reducing its headcount by 1,500 as part of its strategic plan.
Earlier this week AIB also announced a deal to buy stockbroking firm Goodbody for €138m.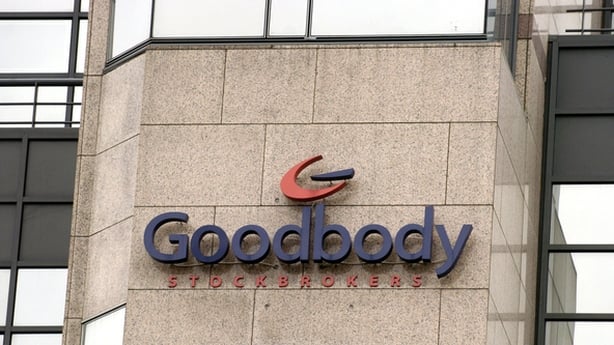 Colin Hunt said AIB will ensure that the existing remuneration structures in Goodbody remain intact, adding that the existing remuneration structures at AIB remain, including the pay cap and restriction around bonuses. 
A very small number of staff members will move from AIB into Goodbody, with no more than 30 over the course of the next two years, he added. 
"As they move into Goodbody, mainly from our corporate finance management areas, it is appropriate that the remuneration structures there apply to them. But the reason that we are doing the transaction is again related to the plugging of product gaps," the AIB CEO stated.
AIB also said today that it was in "advanced discussions" with Canada's Great-West LifeCo, which owns Irish Life, to establish a joint venture which will enhance its life, pensions and savings propositions. 
Colin Hunt said there is a number of product gaps in the services that AIB brings to its customers, focused on savings, investment, pensions and life. 
He said the joint venture that AIB is hoping to develop with Great-West is very much designed to fill out those gaps. 
"We are still in negotiations - exclusive discussions at this stage - but we are planning to conclude those over the course of the next number of months," Mr Hunt said.
The deal will then go into regulatory approval, and hopefully pending the successful conclusion in negotiations and the regulatory approval process, AIB intends on bringing it to the market in the first half of next year, Mr Hunt said.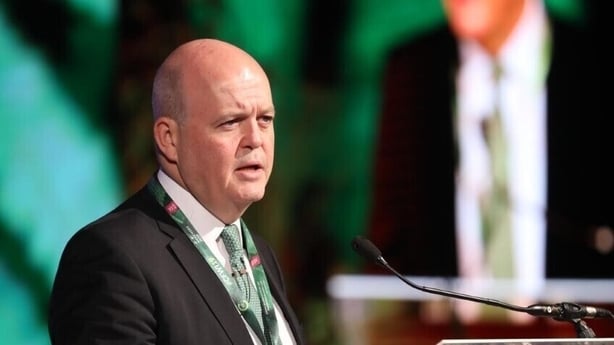 Looking ahead, AIB said that while in the near term uncertainty remains high, overall it remains positive for a return to profitability in 2021 and a resumption of normal dividend distributions in line with regulatory guidelines. 
AIB's chief executive Colin Hunt said the bank's results have been shaped by Covid-19, but he added that the "fundamentals of the business remain robust, sustainable and strong". 
"We entered this crisis in a position of capital strength which, enabled by our leading digital technology, allowed us to deliver unprecedented levels of support to our customers, communities and the economy when it mattered most," Colin Hunt said. 
"Now, I look forward with confidence as we implement our strategy to 2023 at pace, demonstrated by our growth initiatives announced this year. We remain driven by our ambition to be at the heart of our customers' financial lives while sustainably creating value and returns to our shareholders," he added.
AIB announced plans in December to cut staff numbers by 15% and withdraw from the British market for small and medium-sized business lending as it seeks to meet capital and profitability targets.
Asked if he thought AIB is taking on too much during a bank, the chief executive said he did not think so, adding that 2020 was about two things for AIB. 
"One was to support our customers at a time of great uncertainty but 2020 was also about preparing for the changed environment post Covid," he said.
"We announced our strategy in December. We set out very clearly what we were going to do, and we have been planning this for quite some time. We are out of the planning phase, we're out of the strategic formulation phase and we're now in execution and we are implementing that plan at pace and I'm really excited about it," he added.