The Taoiseach has said that as the Covid-19 pandemic is brought under control there will be a need to move away from the extensive and wide-ranging emergency supports put in place by the Government to help businesses and workers. 
However, Micheál Martin said the changes would be phased, in line with the public health advice, virus suppression and the vaccination rollout. 
Addressing the Dublin Chamber of Commerce annual general meeting, Mr Martin said the past year has been a difficult, extraordinary and unprecedented one.
He said that Covid-19 had brought great tragedy and suffering to many families, as well as unparalleled disruption to people's lives and livelihoods. 
Mr Martin said the fact we remain at Level 5 restrictions has lengthened an already difficult start to this year.
He also said he is very conscious of the burden that has been placed on people, as well as the sacrifices the Government has had to ask of so many enterprises. 
He said that the steps businesses had been asked to take to stop the spread of the virus are proving effective and will help to keep so many in society safe. 
"We simply have to keep the pressure on the virus and whilst we do this we simultaneously ramp up the distribution of the vaccine, and obviously the international supply issue, manufacturing production issue, continues to be a challenge," he said. 
"But nonetheless we are making significant progress in relation to the vaccine programme particularly in terms of those who are most vulnerable to the disease and those most vulnerable to death," he added. 
The Taoiseach said the twin track approach will take us out of this once in a century public health crisis. 
Mr Martin said there is no question that as we move on week by week and month by month we will have options in terms of responding to Covid. 
"We want to reopen our society and we want to reopen our economy, but we must do this in a way that is safe and that is sustainable. So when something reopens I do not want it to close again," he stated. 
He said over the past year we have shown as a society we can rise to the challenge and that in society solidarity matters.  
"We are very conscious that the path we are currently on is very very difficult for many families, for many businesses and their workers, for those who though no fault of their own must remain closed, or who have even seen a significant or even complete fall off in business activity," the Taoiseach said.
He also pointed to the supports that the Government has put in place since last year to help businesses and workers.
The Taoiseach said these had prevented even larger decreases in economic activity, even higher rates of unemployment and even more rapid rates of firm exits. 
He said he also thinks they have laid the ground work for a swifter recovery. 
But the Taoiseach said that as the virus is brought under control there will be a need to move away from the extensive and wide-ranging emergency supports.
He said there would be more targeted interventions for sectors that remain subject to restrictions as well as towards investments that support recovery and opportunities for future growth.
"This reprioritising of supports towards businesses, employment transition and rehiring will underpin a more impactful and sustainable path to recovery," he said.
"The Government's approach to amending and subsequently withdrawing the exceptional emergency levels of support will be phased in line with of course public health advice, virus suppression and the vaccination rollout," he stated.
He said as it becomes more possible to ease restrictions, the Government will publish a national economic recovery plan outlining how it will help people return to work and support sectors that have been disproportionately impacted by the pandemic.
The plan will also be aligned with the Government's ambitions around climate and digital transition, as well as focus on getting people back into employment. 
Brexit trade arrangements a 'significant challenge'
In relation to Brexit, the Taoiseach said while the trade agreement was welcome the trade arrangements do pose a very significant challenge.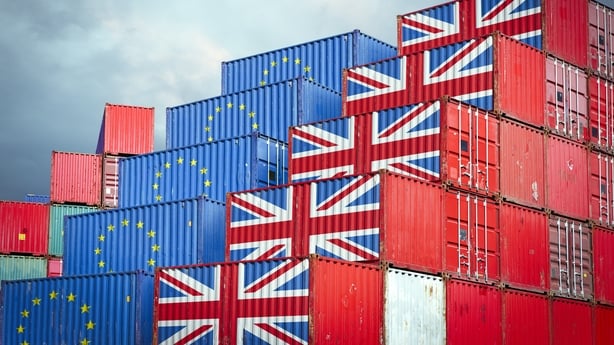 As a result, he said the impact has been very significant, and although we knew this, "some of the debate prior to Brexit…took the focus off the need for preparedness, particularly on the UK side."
"Clearly it is going to take time for businesses to adjust and indeed a new equilibrium to be found," he said.
But he added that the range of checks are unavoidable, so as to ensure commitments to the EU are met.
He also warned that Brexit is not over though, and for businesses that export to Great Britain further checks are to be phased in over the months ahead by the UK Government.
"It is imperative that businesses get ready and make the necessary preparations," he said.
Mr Martin also said the review of the National Development Plan, due to be finalised in the summer, would outline an ambitious agenda of investment for the years ahead.