AIB has announced a deal to buy Goodbody Stockbrokers, which provides wealth management, corporate finance and capital markets services in Ireland. 
Under the terms of the agreement, AIB will buy 100% of Goodbody from its existing shareholders for a total consideration of €138m. 
This includes an enterprise value of 82m and about €56m excess cash on the company's balance sheet.
Goodbody is 51% owned by Co Kerry-based financial services firm Fexco. 
The rest is owned by management and certain staff, led by its managing director Roy Barrett.
AIB said it will continue to adhere to the Government's pay restrictions, but it will have separate remuneration structures in place for Goodbody. 
It said that completion of the purchase is conditional on certain conditions, including approval by the Central Bank and the Competition and Consumer Protection Commission.
Goodbody manages assets of about €8 billion and employs 300 people in offices across Ireland and the UK.
It provides financial services in three core segments - Wealth Management, Asset Management and Investment Banking -  to both private and corporate clients. 
AIB said the deal is consistent with its strategy announced last December to make "selective investments" in order to address gaps in its overall customer offering and diversify income streams. 
"This transaction marks a step in delivering the updated strategy and AIB will continue to explore further opportunities, particularly in the Life and Pensions segments," the bank added.
Colin Hunt, chief executive of AIB, said today's deal will greatly increase its capacity to broaden its services to customers, while also enhancing the bank's growth opportunities. 
"This is a landmark deal for the bank, as AIB positions itself for expansion in Ireland, supporting our 2.8 million customers and ready to underpin Ireland's economic recovery as we emerge from the Covid-19 pandemic," Mr Hunt said 
"While the group will optimise synergies to expand customer offerings for both existing AIB and Goodbody private and corporate clients, Goodbody will remain as a separately regulated entity with its own brand and board," he added.
Goodbody's Managing Director Roy Barrett said that the stockbrokers are aligning with the market leader and could not be better positioned to compete in the financial services sector over time. 
"This is now the beginning of an exciting new phase of the company's development as this partnership has the potential to offer our business, our clients and our staff many opportunities for growth as we start the next chapter of Goodbody's history," he added.
Finance Minister Paschal Donohoe said today's deal is a positive outcome for the Irish economy as well as the three Irish businesses involved - AIB, Goodbody and Fexco.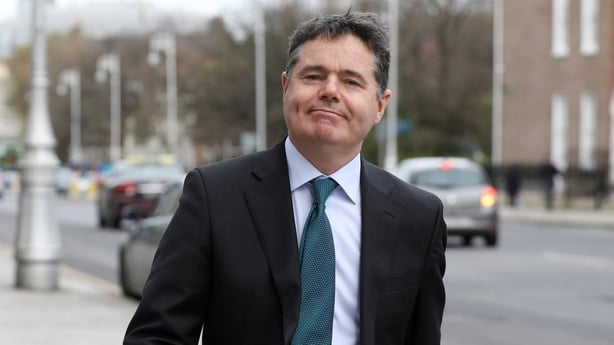 "Today's announcement by AIB a will have positive impact for the State as a whole but primarily it will ensure that Goodbody continues to have a well capitalised owner providing opportunities for growth, which will support the wider needs of the Irish economy and businesses," Mr Donohoe said. 
He said today's deal represents an excellent strategic opportunity for AIB to deliver on its ambition to diversify its revenue in a low interest rate environment. 
"The addition of Goodbody offers growth opportunities for the AIB Group in broadening its financial offerings in the life, pension, wealth and asset management sectors, in addition to enabling its Irish corporate and business customers to access a greater range of services," he said. 
"For Fexco, which is an important employer in the south-west, the proceeds it receives from the transaction will help it continue to grow and innovate in the financial services sector," he added.
The Finance Minister said a small number of AIB staff, including from its Corporate Finance and Wealth Management business will transfer to Goodbody in order to maximise synergies between the teams and avoid duplication of activities. 
He also said there will also be a restriction on Goodbody hiring any person in the open market or otherwise, with a total remuneration package above €50,000, who was an employee of AIB (or any Group Company) at any time within the previous two years. 
"The standard remuneration arrangements in a stockbroking business are very different to those that pertain in a retail and commercial bank such as AIB, and reflecting this the bank has sought my consent for the continuation of the current remuneration arrangements in Goodbody," Mr Donohoe said. 
"This has been done in a manner which ring-fences Goodbody from the rest of the AIB Group and ensures ongoing compliance with Government policy on bank remuneration which remains unchanged," he added.
AIB notifying customers of some branch closures
AIB has begun to contact customers affected by its planned closure of five of its branches.
Some city centre branches in Dublin, Cork and Galway are to close by the end of June, with customer accounts being moved in advance.
The decision to close the branches was first announced by the bank in early December 2020.
AIB's Westmoreland Street operations in Dublin are set to move to its Dame Street branch, the Crumlin Cross branch activities are transferring to Crumlin Road, while the operations of 52 Baggot Street will move to 1-4 Baggot Street. 
In Galway, Eyre Square is to move to Lynch's Castle while the branch on Cork's Patrick Street will merge with its facility at 66 South Mall.
The closures follow a strategic review at the bank, which will also see it vacate three office buildings in Dublin.
Yesterday, Bank of Ireland announced plans to close 103 branches in the Republic of Ireland and Northern Ireland.
It said the adoption of digital banking had reached a "tipping point", leading to a sustained fall in the use of physical branches.
However Bank of Ireland also announced a partnership with An Post, which will allow its customers to access its banking services across its 900 locations.