Bank customers in Celbridge, Co Kildare must be feeling more than a little aggrieved today.
Just 10 days ago, Ulster Bank announced it would be winding down its operations in the Republic of Ireland, which eventually should include its branch in Celbridge.
Then this morning, Bank of Ireland said its branch in the town is also one of the 103 island-wide closures it intends to make.
Both moves, when they happen, will reduce the number of lenders for customers to choose from in Celbridge by 50%, leaving behind just an AIB branch and a local credit union.
Not every town will be so unlucky as to lose two different banks of course from the Bank of Ireland and Ulster Bank situations.
But nevertheless, today's Bank of Ireland announcement will be seen as another symptom of a sector both under pressure and going through significant flux.
The bank has claimed that the decision is not about cutting costs and is instead a symptom of the changing nature in which we bank.
In reality though, shutting prime urban branches, with all their running costs and moving staff to other roles (or see them leave entirely) will reduce costs.
This has to have been a significant consideration at a time when the bank is, like all lenders, wrestling to make a decent margin and keep costs down.
That said it is also indisputable that the way we are banking is changing.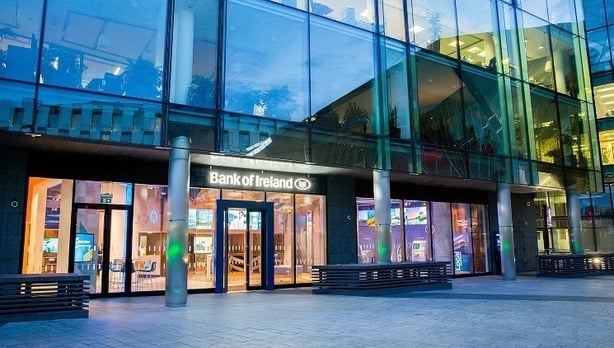 Bank of Ireland claims branch footfall between 2017 and February last year was already down by a quarter.
Adding in the pandemic has extended that fall to over 50%, and in the branches which are closing it is as much as 60%.
You could argue that is not surprising - after all, we've been asked to stay at home for much of the last year, and many of the older or vulnerable people who use branches to do their banking have in particular not been out and about as much.
There is no denying though the manner of how we bank is shifting considerably.
Ask anyone aged between 30 and 50 when they last went to a bank branch and why, you'll probably be told it was many months ago, to lodge a cheque.
Ask anyone under the age of 30 what a cheque is, and you'll probably be met with a blank look and a shrug.
For them, money moves from person to person through their phone or their watch, and based on their experience of banking, very soon most of the many reasons why we used to visit bank branches weekly or even more regularly will no longer be valid.
And so you can see, therefore, why it is that banks, like Bank of Ireland, are looking closely at whether they need as extensive a network of expensive branches as they used to.
It is isn't just Bank of Ireland or Ulster Bank doing this either. Last year KBC announced it was closing four of its "hubs" or branches to you or me.
Given it now has just 12, that represented a cut of one quarter.
AIB, which has a network of around 200 branches, also said last year that it was merging five branches in locations where there were others nearby in order to save costs.
So in total, when the announcements of all four institutions over the past six months are taken into account, we could see up to 200 branches closed over a few years across the country.
And that is all on top of the many dozens of branches that have been closed by all the various banks in the wake of the financial crash over a decade ago.
Whatever Bank of Ireland's rationale, there is no denying that today's news will be disappointing and concerning for many small towns.
Despite the shifting trends, there are still many people who use branches for their banking.
Older or vulnerable customers, or those who aren't technologically literate, still want the personal touch.
Some small businesses and farmers need that extra little bit of assistance they can't get from an app - particularly at the moment and in the coming months as the pandemic eases.
Children like to see their birthday and communion money being handed into a human being at a counter, rather than to an ATM, or worse still an internet banking terminal.
For the 200 staff too, who have been offered redeployment or a voluntary redundancy package, uncertainty and some difficult choices lie ahead.
In many rural towns, the closure of the local bank will also mean yet another empty commercial premises in the Main Street - another reason for people to no longer come into town.
It will, however, provide an opportunity for An Post and the credit unions to fill the void.
AIB, Ulster Bank and Danske all currently provide banking services through post offices, soon to be joined by Bank of Ireland.
That may prove to be another means for smaller rural post offices, which have also come under threat in recent years, to survive and thrive.
A small glimmer of hope amid a pretty grim outlook for the future of traditional retail banking in Ireland.