Grafton Group has reported a drop in profits and revenues for the year to the end of December but said today it is a "stronger, more resilient, more digitally and sustainability savvy business" than it was before the Covid-19 pandemic.
Grafton said its Woodie's DIY, Home and Garden business saw an "exceptional performance", while it also saw a particularly strong second half recovery by Chadwicks in Ireland and Selco in the UK.
The company said its revenues for the year fell by 6% to £2.5 billion, reflecting the impact of first half branch closures in response to the Covid-19 pandemic.
Its adjusted profit before tax decreased by 7.4% to £166.4m from £179.6m the previous year.
Grafton said its operating profit from continuing operations fell 6% to £193.3m, exceeding management expectations outlined in its January trading update.
Grafton noted a strong recovery in profitability in the second half of the year with adjusted operating profit up 47%, on the back of robust residential repair, maintenance and improvement markets in the UK and Ireland.
The company has declared a dividend of 14.5 pence for the year, a 23.7% drop on the dividend of 19 pence the previous year.
Gavin Slark, Grafton Group's chief executive, said the company's evolution reflects not just the commitment and hard work of its staff and the agility and resolve of the businesses in a challenging year, but also its multi-year transformation and investment journey.
We need your consent to load this rte-player contentWe use rte-player to manage extra content that can set cookies on your device and collect data about your activity. Please review their details and accept them to load the content.Manage Preferences
This had mainly targeted the more resilient construction sectors of repair, maintenance and improvement, underpinned by an improved customer proposition across all of its businesses.
"We are very encouraged by the group's strong performance through the second half of last year and while we remain cautious about first half revenue trends in our markets in light of Covid uncertainty, we expect to make further progress in the current year and are confident that our 11,000 colleagues will continue to deliver for our customers," Mr Slark said.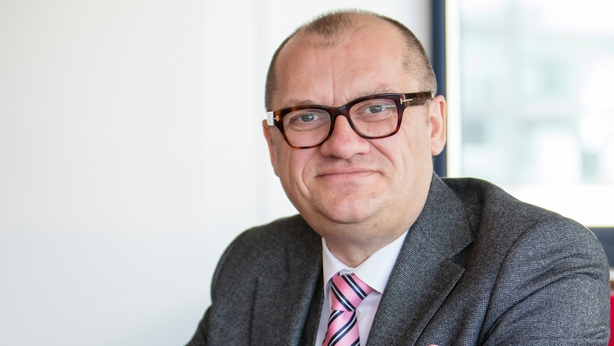 "We finished last year in an excellent financial position that provides a strong platform for the future growth and development of our group," he added.
On Brexit, Gavin Slark said that Grafton, which also trades in the Netherlands, had so far experienced only a "tiny impact" from Britain's exit from the European Union.
He said the company has had to source goods from elsewhere when it could not bring some products to Ireland from Britain.
In its results statement, Grafton said that trading was in line with expectations until the second half of March, but it was was heavily impacted by the closure of all branches and stores in Ireland and the majority in the UK, except for emergency supplies, from the end of March.
It reported an immediate recovery in some of its businesses and a steady recovery in others on reopening during the months of May and June.
Trading was then stronger than anticipated in the second half of 2020 and it said it was "very encouraged" by the level of activity across the overall group.
It noted that its first half revenue was down by 19.4% to £1.06 billion, while its adjusted operating profit before property profit declined by 58.9% to £39.1m.
But its second half revenue increased by 6.8% to £1.45 billion and adjusted operating profit before property profit soared by 47.5% to £151.6m.
Grafton said that revenue at its Distribution Segment - which makes up 88% of group revenue and includes Chadwicks, Selco and Buildbase - fell by 7.8% to £2.201 billion from £2.387 billion in 2019. Adjusted operating profits fell to 14.6% to £149.4m from £175m.
But revenue at its Retail Segment - which makes up 10% of group revenue - jumped by 20% to £246.6m from £205.5m, while operating profits soared by 85.6% to £42m from £22.6m.