Joint research by the Central Bank and the Central Statistics Office has found that without the PUP and wage subsidies, household incomes would have fallen by 20% in the second three months of last year due to Covid-19.
The research finds that with the support of the PUP and wage subsidies, median gross household income fell by 1.7% in the months from April to June compared to the same period in 2019.
Incomes actually rose by 3% in the months from July to September.
Income supports were found to be most beneficial to lower income households. Without supports, incomes in the bottom half of earners would have fallen by between 20 and 30%. Higher income earners would have seen a fall of 8 to 13%.
The report also finds that in the second quarter last year, there was no year-on-year change in income for households where the main respondent was under 30 years of age.
This is because of the level of support compared to pre-Covid income. Without supports, the median income in this cohort would have fallen by over 36%.
It also found that incomes in single adult households with children under-18 actually grew by 6%, again because of how the level of Covid supports compared to pre-Covid incomes.
---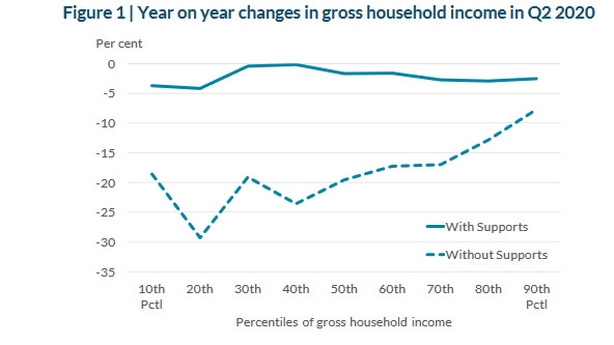 ---
Median incomes amongst owner-occupiers with a mortgage fell by 2.6% in the second quarter. They grew again by 0.9% in third quarter.
Their incomes were found to have been supported by between 17% in the second quarter to 10% in the third quarter.
The group with the largest percentage support was renters. Their incomes actually grew by 5.7% in the second quarter.
Today's research finds that renters' incomes were boosted by 31% due to Covid supports in the second quarter. The report notes there is some overlap with the findings for the under-30's as 70% of these households are renters.
Supports also helped households continue to service debts, both mortgages and consumer loans.
The median debt-to-income ratio increased marginally from 60.7% to 60.9% in the second quarter of 2020 before falling in the third quarter when incomes rose again.
The burden of debt increased most for households with higher levels of debt. But without supports, it would have increased by 150% or 1.5 times gross income.
Debt-service ratios, which measure the amount of gross income used to service or repay debt, also rose only marginally. However it rose more significantly for those with more debt.