New figures from Revenue show that the compliance rate for people paying their Local Property Tax last year stood at 94.4%.
Revenue said this is a very strong figure given the difficult conditions during the year due to Covid-19 and is indicative of high levels of voluntary compliance by property owners.
Cork County had the highest rate of compliance with a rate of 97.3%, followed by Fingal County at 97.2% and South Dublin at 97%.
Donegal recorded the lowest rate of compliance with 91.4% of home owners paying LPT. It was followed by Dublin City at 93.1% with Leitrim and Louth both coming in at 93.3%.
Today's Revenue figures show that Local Property Tax receipts of €480m were transferred to the Local Government Fund in 2020.
A total of 39,400 compliance letters were issued last year by Revenue, which covered all Local Property Tax and Household Charges liabilities for the years from 2012 to 2020 inclusive.
According to Revenue, the vast majority of these cases saw property owners fully comply with their LPT payment obligations, either on a phased basis or by way of a single payment.
But it added that there was a relatively small number of cases that chose to remain non-compliant, even after significant effort to engage with the people concerned.
This left Revenue with no alternative but to deploy debt collection/enforcement measures or other sanctions to ensure payment.
Revenue said it collected LPT by way of mandatory deduction at source from salaries and pensions for roughly 86,700 properties for 2020, most of which rolled over from mandatory deductions applied in 2019.
---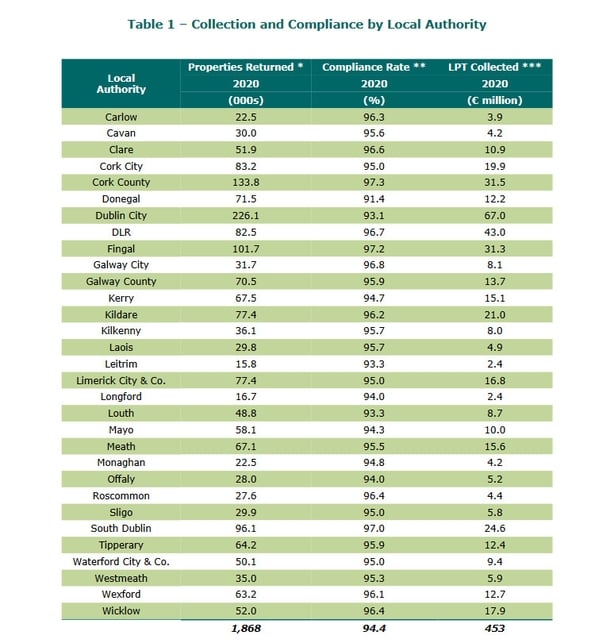 ---
It said that over 14,900 valuations have been increased as a result of a combination of self-correction and Revenue challenges.
Meanwhile, separate figures from Revenue show that a total of 23,181 Help To Buy claims were made by the end of 2020, of which 22,709 are approved.
Revenue said the estimated total value of approved HTB claims to the end of 2020 came to €368.6m and the total value of approved and pending HTB claims is around €375.3m.
The Help To Buy (HTB) incentive was announced in October 2016 and is designed to assist first-time buyers with the deposit needed to purchase or build a new house or apartment to live in as their home.
The incentive provides for a refund of Income Tax and DIRT paid over the previous four tax years, limited to a maximum of 5% of purchase value up to a value of €400,000. The refund is capped at €20,000.
A temporary enhancement to the existing HTB scheme for 2020 was announced in the July Stimulus plan.
The enhanced relief provides that where applicants satisfy certain conditions, increased relief is available up to a maximum of €30,000, or 10% of the purchase value.
This incentive is available for the period from July 2016 to December 31, 2021.
---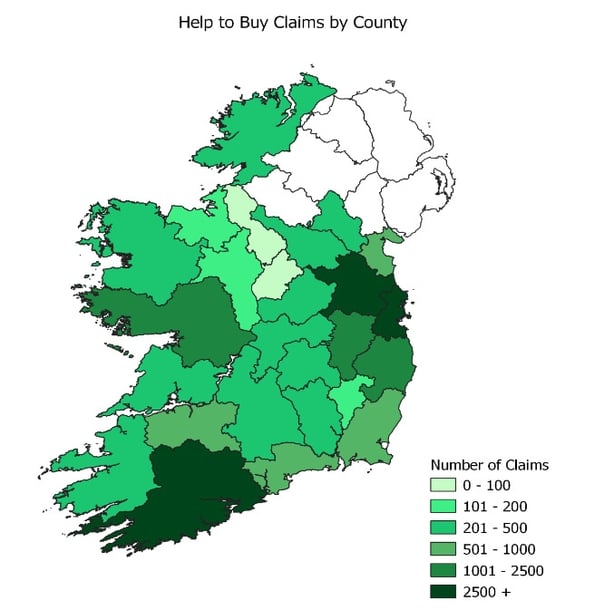 ---
Today's figures from Revenue show that Dublin - unsurprisingly - had the highest level of HTB claims at 6,458, followed by Cork (2.674), Meath (2,814) and Kildare (2,448).
Meanwhile, Louth had the lowest HTB claims at 60, following by Longford with 94 and Sligo with 165.
Home Renovation Incentive Scheme
A total of €189.15m in tax credits have been claimed from Revenue under the Home Renovation Incentive Scheme over the past eight years, according to new data released by the tax collector.
The works relate to 161,694 projects in 98,922 individual properties around the country.
The effect of this was broadly Revenue neutral, with €426m in tax and USC foregone with the lost jobs, but €455m added with the newly created positions.
The scheme, which was introduced in October 2013, allows homeowners who carry out qualifying renovation works to apply for and claim an income tax credit.
35% of the works carried out by value related to home extensions, with general repairs and renovations accounting for 27%.