A phenomenon of the pandemic is virtual recruitment.
Thousands of people have started new jobs over the past year, and are working remotely having never been to their new workplace or having never met their new colleagues in person.
Starting a new job is daunting, but navigating a new role under these difficult circumstances can be stressful.
Mike Edgar started a new job with Salaso, a software company based in Tralee, where he works as a junior software engineer, developing and testing code.
"The interview was a virtual interview, done through Microsoft Teams," he said. "When you're in person you get a better feel for how things are going.
"I have been to the office twice or three times, but all of the times that I've been there, its been practically empty so I've only met a couple of people. I've met the CEO of the company and some colleagues but the vast majority I've only seen through a camera."
There is no opportunity to get to know colleagues better over a coffee at work, and there's no conversation at the water cooler. When Mike is talking to a colleague, "9 times out of 10 it's work related".
Salaso is cognisant of the challenges for new employees like Mike, and have initiatives in place to help him feel part of the team, and he knows who to turn to if he has any questions.
"They have been very good in that regard," he said. "If I have any struggles, I know who to go to, I know I can talk to my manager or anyone else in the company. They are very open and understanding in that regard".
The company holds a 'Take 5' call twice a week. "We take five minutes to do a few easy enough exercises so that we are staying active, and there's another 10 or 20 minutes where we talk about how things are going and what's happening in our life - or what's not happening in our life as the case may be."
"That is something that I found difficult. They are all icons on a screen. We have messaged in group chats and they've reached out and been very supportive.
Emilia said the training that the company offered when she began her job last November helped her settle into the new role.
"I think that's very important because I'm in my room, working from home. When you're in the workplace, there is a lot more support. If you have a question, you can turn to your colleague and ask. I think it's very important to give a lot of training at the start because when you are by yourself, it's harder to reach out to people."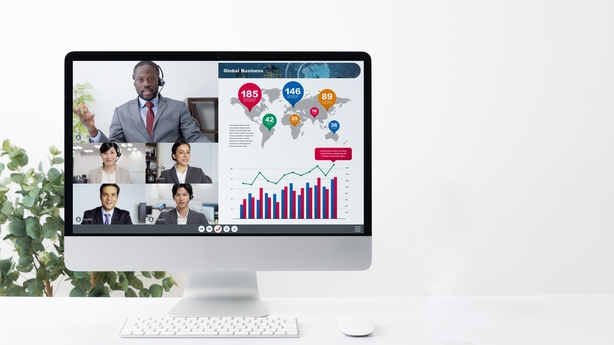 Lorraine Kelleher is a marketing executive with Spearline, a global software firm based in West Cork. A number of new people have joined the firm since Covid-19 hit, and Lorraine has yet to meet her new colleagues in person.
Remote working has been a part of the organisation for a long time, and Spearline was well placed to recruit new staff virtually, and help them settle into the firm.
"My company has taken a very proactive approach," Lorraine said. "We have regular team calls. There are introduction calls with new colleagues. HR have regular check-ins with us. They'd be known as a coffee and chat. It's just an informal way to make sure everyone is ok.
"We also have weekly gym classes. There's online yoga classes, mindfulness, meditation, and there has been quiz nights as well."
It can be isolating, and new employees can feel disconnected. "For people who are coming in from college for the first time to a working environment, it's a critical junction in their career and a lot of them are anxious about it, and it means that they can't establish the relations that they would have in an office environment, so there is a feeling of disconnection there," Lorraine said.
New employees who are keen to make a good impression and show that they are hard-working, can often work longer than their contracted hours.
"I think it can be difficult for someone to reach out and say 'I've reached my capacity, I can't fit this in today' and I think when you're new that is definitely a struggle because you don't want to seem like you're making a bad impression. I think a key area is for management to be aware of that," Lorraine said.