AIB and Permanent TSB are both understood to be preparing to publicly declare an interest in portions of Ulster Bank's loan book, if NatWest gives the go-ahead for the wind down of the lender.
Sources confirmed that AIB is considering an offer for Ulster Bank's corporate and commercial loan book, while PTSB is focusing in on the bank's portfolio of small and medium sized enterprise (SME) loans.
It is understood that both banks could issue updates on their positions tomorrow if, as is now widely expected, NatWest's board signs off on a plan to have Ulster Bank gradually exit the Republic of Ireland market.
NatWest is due to report its 2020 annual results on Friday and it is anticipated that as part of that it will issue an update on its strategic review of Ulster Bank's business that has been ongoing since September.
A purchase by AIB of Ulster Bank's large and medium-sized corporate loans would give it a leading position in the business banking sector, but would require competition and other regulatory approval.
A sale of Ulster Bank's SME loans to Permanent TSB would strengthen the 75% state owned bank's place in that segment of the market, which it has previously publicly stated that it is targeting. 
However, it is understood that talks between PTSB and NatWest are less progressed.
Ulster Bank, NatWest, AIB and Permanent TSB all declined to comment on the situation.
The chief executive of Ulster Bank has told staff that no decision has been taken on the bank's future here.
In a communication to the bank's 2,800 staff, Jane Howard said there is ongoing speculation in the run up to that.
"This is not how we choose to communicate with you or our customers," she said.
"However, despite this speculation I can confirm that no decision has been taken," she added.
The Ulster Bank CEO said that she knows the level of uncertainty is escalating and that employees are naturally frustrated by the lack of clarity.
"You have heard me say before that speculation is outside of our control and again I reiterate that as soon as I can, I will update you," she said.
We need your consent to load this rte-player contentWe use rte-player to manage extra content that can set cookies on your device and collect data about your activity. Please review their details and accept them to load the content.Manage Preferences
Ms Howard also invited staff to a call.
Unions at Ulster Bank called for immediate clarity to be provided on the bank's intentions.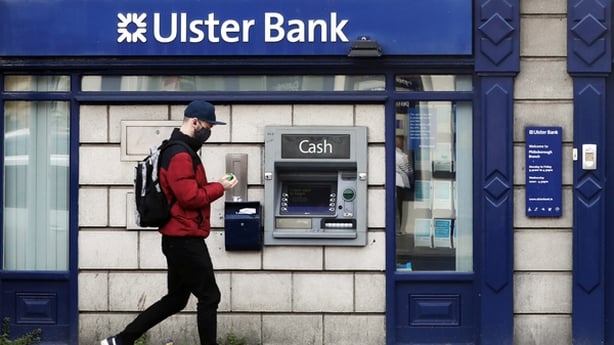 The General Secretary of the Financial Services Union has said it is a very anxious time for Ulster Bank staff who want to know where they stand in relation to the proposed withdrawal of its employer from Ireland and the impact on jobs.
John O'Connell told RTÉ's News at One that any redundancies, if announced, need to be voluntary and that if the business moves to another entity, staff should be allowed to move too.
He said a branch network also needs to be maintained as part of a vibrant community.
Mr O'Connell said that staff have been put in a position where they are unable to provide customers with any answers.
Earlier, Sinn Féin warned that if Ulster Bank withdraws from the State it would be a major hammer blow to workers and customers. 
Pearse Doherty said such a move could place "upward pressure" on interest rates and he urged the Government do all it can to minimise the damage.
Speaking in the Dáil, he added that a "vulture fund" cannot be allowed to acquire Ulster Bank's €20 billion loan book. 
Tánaiste Leo Varadkar said he was aware of the media reports about Ulster Bank, adding that while it was a commercial matter, it was one of concern to the Government. 
Leo Varadkar said the Finance Minister is assessing all options and Paschal Donohoe has been in contact with the bank's owners, Natwest.
The Tánaiste said customers' deposits are protected as are the terms and conditions of customers' mortgages.
---
Read more:
Ulster Bank staff 'furious' at lack of communication
Donohoe warns consequences of sudden Ulster Bank withdrawal would be "very serious"
PTSB hires advisers for possible Ulster Bank loan bid - report
 
---
Meanwhile, Leo Varadkar also said that people need to think how the "iconic buildings" which were used by banks and which are closing should be used in future. 
He was speaking in the Dáil in response to a question the decision by Bank of Ireland to close branches. 
"The world has moved on in terms of banks," Mr Varadkar said.
"Nobody likes to see a bank branch close. But the number of people going into a bank branch is a fraction of what it was," he added.