New preliminary figures from the Central Statistics Office show that exports were valued at €160.814 billion last year - the highest total on record - and an increase of €8.280 billion, or 5%, over 2019.
The largest category of exports last year was medical and pharmaceutical products.
Exports of these goods accounted for 39% of all exports, which marked an increase of 25% on 2019.
Today's CSO figures also show that imports last year decreased by 6% compared to 2019, falling by €5.495 billion to €85.367 billion.
Imports of other transport equipment, including aircraft were valued at €12.711 billion last year, or 15% of total imports. This was a decrease of 41% on the 2019 level of imports.
Petroleum imports decreased by 40% in 2020 to €2.584 billion amid Covid-19 travel restrictions, the CSO added.
---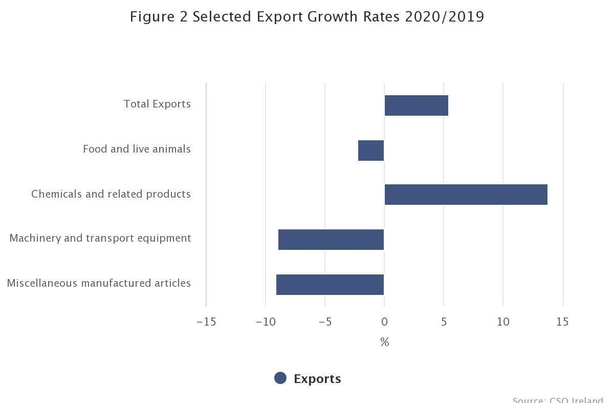 ---
Meanwhile, exports to the UK last year fell by 9% to €12.399 billion and accounted for 8% of total exports.
Imports from the UK decreased by 5% to €17.812 billion which resulted in a trade deficit of €5.413 billion with the UK in 2020.
The CSO said the EU accounted for 40% of total exports in 2020, an increase of 13% on 2019. Exports worth €17.897 billion were sent to Belgium and €17.449 billion to Germany.
Exports to non-EU countries (excluding the UK) were valued at €82.457 billion last year, up 3% on level of exports in 2019.
The US was the largest export destination among this group of countries in 2020, accounting for 31% of total exports, the CSO noted.
Meanwhile, a total of €30.329 billion of imports came from the EU in 2020, representing 36% of total imports.
Imports from non-EU countries (excluding the UK) totalled €35.522 billion, down 4% on the 2019 level of imports.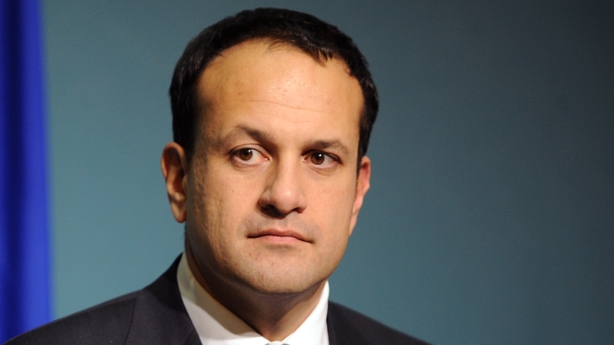 The Tánaiste and Minister for Enterprise, Trade and Employment, Leo Varadkar welcomed the preliminary figures which show that the value of goods exports from Ireland rose to €160.8bn in 2020.
"These results show that Ireland's export-led trading sector has proven to be extremely resilient during 2020, an unprecedented year globally. Exports are now at historically high levels.
"These companies employ hundreds of thousands of people here and steady tax receipts have allowed us to support struggling businesses with grants, wage subsidies, a rates holiday and a VAT cut.
Although the figures show growth in exports to non-EU countries, the Tánaiste pointed out that the majority of the growth went to the European Union.
"Ireland continues to benefit from a connected, multi-beneficial trade relationship with the EU.
"The Government will continue to help companies diversify and discover new markets, while also helping our indigenous enterprise sector to weather the current challenges and adapt to Brexit.
"Our multinational sector helped Ireland recover during our last recession and will be crucial as we rebuild after the pandemic," he added.