Residential property prices increased nationally by 2.2% in the year to December 2020, according to the latest figures from the Central Statistics Office, the fastest annual rate in 17 months. 
This compares to an increase of 0.2% in the year to November. In the year to December 2019, prices increased by 0.3%. 
The CSO said that prices for property in Dublin rose by 1.2% - only the third time prices have increased in Dublin on an annual basis since July 2019.
Meanwhile, home prices in the rest of the country rose by 3.1%. 
House prices in Dublin rose by 0.2% while the price of apartments rose by 5.1%. 
Outside of Dublin, house prices increased by 3.1% while apartments went up by 4%, the CSO figures show. 
On an annual basis, the price of new dwellings in the fourth quarter of the year was 2% higher. Prices for existing dwellings were 0.3% higher in the fourth quarter compared to the same period in 2019. 
A total of 4,988 property transactions were filed with Revenue in December, with a value of €1.6 billion. This was 13.6% higher than December 2019 and an increase of 17.8% over November. 
Existing dwellings comprised 78.3% or 3,907 transactions, up 15.4% over December 2019. The balance of 1,081 transactions, 21.7%, were for new properties - up 7.5% annually.  
In 2020, former owner-occupiers purchased 20,117 properties, making up 52.9% of the market. 
First time buyers purchased 12,644, accounting for 33.3% of sales, while non-occupiers' or investors accounted for 5,249 properties or 13.8%.
---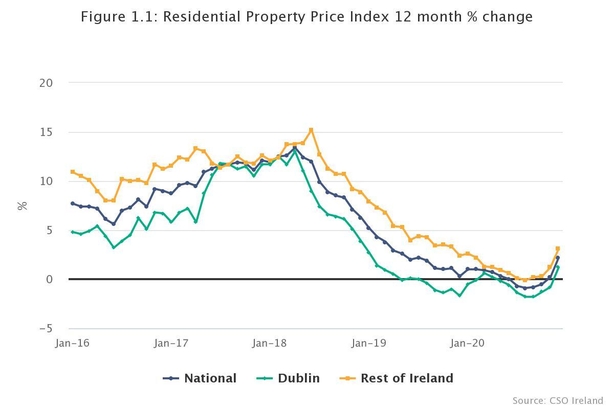 ---
The median, or mid-point where half of properties sold are higher and half are lower, nationally was €260,000. That rose to €380,000 in Dublin.  
Within Dublin, Dun Laoghaire Rathdown was the highest at €532,000. The postcode with the highest median price was A94 Blackrock at €615,000. 
Outside Dublin, the highest median area was Wicklow at €349,000. It also contained the highest postcode, A63 Greystones, where the median price was €450,000. 
The lowest median price area outside Dublin was Leitrim at €110,000. The postcode with the lowest median was F45 Castlerea in Co Roscommon. The median price there was €77,500. 
While the number of new homes built last year fell by 1.9%, avoiding the lockdown collapse feared by government, supply remains well below the level needed to meet demand which analysts predict will drive prices higher in 2021.