Office rents for prime city centre office space in Dublin have fallen around 10% in the past year due to the impact on the market caused by the Covid-19 pandemic, while take-up of new space in 2020 was down 49%.
This is according to HWBC's 2020 Office Review, which also shows that take-up of new space fell to its lowest level since 2012 as companies postponed long-term letting decisions.
But HWBC said that the market slowdown is likely to be short-lived. 
Today's report shows that rent levels of €59 per square foot in December are down from the peak of €65 a year ago and are at their lowest level since 2016. 
A total of 1.61 million square feet of space was let in 2020, down 49% on 2019, after a strong start to 2020 slowed to a standstill due to the onset of Covid-19. 
HWBC said there were "tentative" signs of an increase in activity in the fourth quarter of last year which has continued into 2021, with optimism that the vaccine roll out will stimulate improved confidence. 
The report also shows that the vacancy rate stood at 9.5% at the end of 2020 due to reduced demand and an increase of "grey" space coming to the market, where a company looks to sub-let excess space that is surplus to requirements. 
HWBC estimates that this accounts for around 25% of available space and is competing with traditional landlords, often offering more flexible terms.
5.1 million square feet of new space is due to come to market in 2021/22 as developments in construction are completed. 
The company noted that 54% of this is already pre-let, leaving a "manageable" 2.35 million square feet to be occupied. 
HWBC noted that big technology companies continue to play a major role in the market, accounting for seven out of the ten biggest deals of the year. 
"Their commitment to physical space despite increased working from home was shown by Amazon's leasing of Burlington Plaza, which at 75,000 sq ft was the largest letting in the city centre to occur during the pandemic," today's report said.
---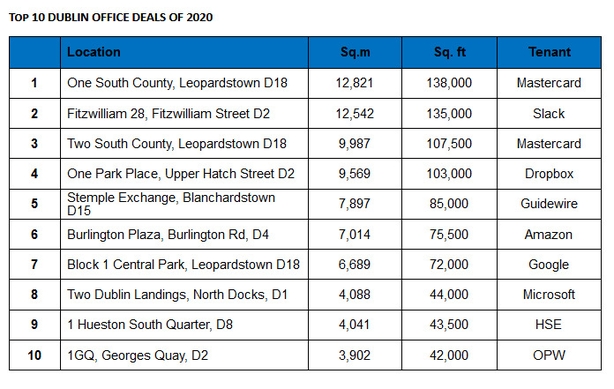 ---
"Social networking firm TikTok is also expected to expand and lease up to 500,000 sq ft of space in Dublin for its European headquarters, which would be another strong vote of confidence," it added.
Other positive news last year included An Post's plans to move from the GPO to the Exo Building in the North Docks, and Rabobank taking 23,000 sq ft on Sir John Rogerson's Quay, which HWBC said showed positive signs from the finance sector.
HWBC said it believes Dublin remains an attractive target for overseas investors, as evidenced by recent transactions such as Amundi's acquisition of Fitzwilliam 28, with its solid covenant of a pre-let to tech company Slack. 
Offices remain an attractive asset class even with the changes to working practices that are likely to endure long after the resolution of Covid-19, it added.
It forecast that while some companies may look to trim their office portfolios in the short term, the vast majority will not materially reduce their footprints. 
"In the hybrid model of work - that looks to be a preference for many workers - companies may change how the space is used, and the office's role as a social hub for staff and client interaction will grow," it added.
Tony Waters, Managing Director of HWBC, said that by summer 2021, he anticipates the rollout of the Covid-19 vaccine and likely improving economic sentiment will restore potential occupiers' ability to make long-term decisions and so this declining market is likely to be short-lived.
"Investors and potential occupiers face a narrow window of opportunity to strike before the appetite to acquire and lease space returns with a vengeance in the second half of the year," he added.