A survey by the Central Statistics Office has found that 64.7% of those in employment have some form of supplementary pension coverage, up 5% compared to 2019.
The CSO survey was conducted between July and September last year.
The CSO noted, however, that it surveyed only those in employment so many who may have lost their jobs due to Covid restrictions would not have been captured.
The survey found that the percentage of workers with a supplementary pension increased with age.
Only 24.4% of those aged between 20 and 24 had some form of pension, but that rose to 49.9% for those aged 25-34, 76.8% for 45-54 year olds and 73% for 55-69 year olds.
Of those with a supplementary pension, 33.8% had a defined benefit pension, 63.9% had a defined contribution pension and 2% were hybrid.
Of the workers with no pension arrangements, 52.2% said their employer does not offer a pension scheme. 35.3% cited "affordability" and 37% said they "never got around to it".
57.6% of those without a supplementary pension said they expected to rely on the State pension for income after retirement.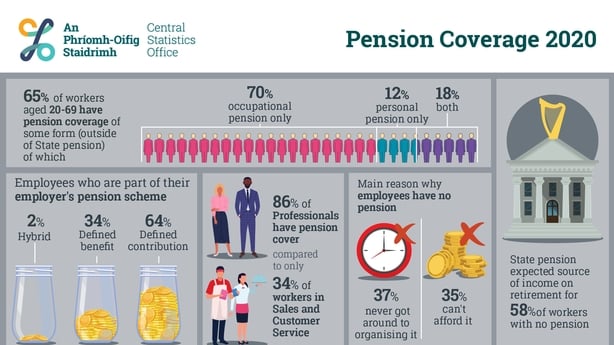 The survey also shows a big difference between pension cover across different sectors of the economy.
It ranges from 95.8% for those working in public administration to just 21.1% of those working in accommodation and food service. Sales and customer services were also low at 34%.
Professionals were highest at 86.4%, the CSO added.