The total amount of pension liabilities owed to households through the state contributory pension and occupational schemes both public and private amounts to €607.9 billion.
This is according to new figures from the Central Statistics Office.
The figure is the equivalent of 186% of the value of the economy measured by GDP and 306% when measured by modified Gross National Income or GNI*, which strips out some of the impact of multinationals.
Today's figures relate to 2018. This is only the second time the CSO has undertaken this analysis.
The State's liability is estimated at €508.8 billion, or 84% of the total. These are unfunded schemes which means they come directly from the Exchequer, rather than pension fund investments.
71% of the state's liability, or €359.2 billion, is made up of the contributory state pension and other pension entitlements which are funded through the Social Insurance Fund.
25% of the entire liability is accounted for by occupational public service pensions, equal to €149.6 billion.
€99.1 billion (21%) is made up of the liabilities of private occupational schemes. These are split into 60% defined benefit and 40% defined contribution.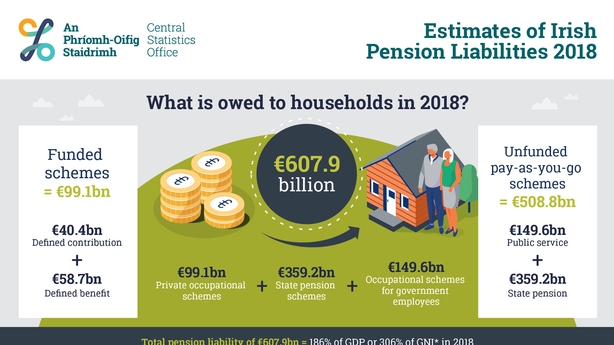 The last time this exercise was done was in 2018 and it was based on 2015 data.
Since then, the discount rate, which is used to estimate future liabilities in today's money was lowered from 5% to 4%. This small change resulted in a 57% increase in liabilities.
The Pensions Commission yesterday launched a four-week public consultation process on the future of State pensions, aimed at putting the national pension system on a fiscally and socially sustainable basis for the future.
The cost of State pensions ballooned by 44% between 2011 and 2021 - soaring from €6.1 billion in 2011 to €8.8 billion allocated for 2021.
Chartered Accountants Ireland said the CSO data is further evidence of the scale of the pensions challenge facing Ireland.
The organisation also pointed out that it came in the same week that the Government announced it will delay the introduction of auto-enrolment until at least 2023.
"We have seen some concerning news on the pension front in the last seven days," said Public Policy Lead with Chartered Accountants Ireland, Cróna Clohisey.
"While it isn't surprising that auto-enrolment has been put on hold, the lack of private pension funding isn't going to be solved without significant action by the government.
"We acknowledge the establishment of the Commission on Pensions last year and today's announcement of a consultation process by the Commission.
"However, the OECD told us in 2014 that urgent reform was needed and 2021 needs to be a year where Ireland moves forward on this issue with a clear and sustainable government policy."