Revenue has warned that anyone buying a used car from the UK needs to be aware of the significant additional costs that may apply, following the end of the Brexit transition period.
Since the UK became a "third country" on 1 January, used cars imported from there that were originally manufactured in the EU or another country outside the EU, must have VAT of 21% paid on the invoice price. 
A tariff of 10% has also to be paid on the cost of the vehicle within 30 days of importation and before it can be registered here. 
As a result, the cost of buying a used car from the UK has risen substantially. 
"Anybody that is contemplating buying a car needs to bear the thought of additional cost in mind when they are doing it because they can be significant," said Dermot Donegan, Revenue's Head of VAT Legislation and Policy.
Revenue has also said that the same rules apply on cars that are imported into the Republic of Ireland from Britain, via Northern Ireland. 
Under the Northern Ireland Protocol, VAT should be paid on a used vehicle at the point of importation into the North if it is coming from Britain but was made in the EU. 
However, the British government recently acted unilaterally to cut the tax on used car imports into Northern Ireland from Britain and backdated it to 1 January. 
We need your consent to load this rte-player contentWe use rte-player to manage extra content that can set cookies on your device and collect data about your activity. Please review their details and accept them to load the content.Manage Preferences
"What it effectively means it that VAT and import is not being collected on the cars coming into Northern Ireland. And they also extended the margin scheme," Mr Donegan said.
"Now the margin scheme allows dealers to bring in cars but only pay VAT on the profit margin. But it can't be done in respect of cars that come from third countries so it is contrary to EU law and it appears to be contrary to the protocol," he said.
Mr Donegan added that Revenue will expect the correct taxes to be paid on UK imports that come into the Republic through Northern Ireland. 
"We won't permit cars to be routed through the North from Britain into the North and down here without the payment of VAT and customs duties where a dealer bringing in cars through Dublin Port would have to pay VAT and customs duty," Mr Donegan stated. 
"So a warning shot for all people that are looking at buying a car, registering a car from Northern Ireland - just be incredibly careful, do your due diligence beforehand," he cautioned.
The issues create an additional headache for car dealers who have traditionally depended on UK imports to bolster their used stock.
Up until last year, around 100,000 used cars each year were imported into Ireland from Britain. 
We need your consent to load this rte-player contentWe use rte-player to manage extra content that can set cookies on your device and collect data about your activity. Please review their details and accept them to load the content.Manage Preferences
"We imagine that used imports will continue, they will continue to be a factor of the market, they always will," said Emma Mitchell, Operations Director of the Society of the Irish Motor Industry (SIMI).
"But certainly we don't expect that we will see used imports continue as they have done in the previous years, particularly 2018 and 2019," she added. 
Ms Mitchell said that stock levels are currently pretty strong as a lot of dealers brought in a lot of used imports from the UK before 1 January. 
"What we expect will happen is used imports will probably find a more normal level. And used car stock will then be fed from new car sales, rather than importing the used cars in to stop that gap," she said.
However, she added that consumers could see an increase in prices if businesses do not absorb some of the extra costs.  
The flip side though is that trade in values should rise, so the cost of changing a used car for a second hand one should either narrow or stay the same, Ms Mitchell said.
But SIMI is concerned at the unilateral action by the British government to cut the tax on used car imports into the north because it will put dealers in the Republic at a significant competitive disadvantage. 
"So really until there is an agreement reached between the UK and the EU we really have to ensure that there are some safeguards put in place to protect the Irish market and really just to ensure that there is a level playing field between Northern Ireland and Ireland," she added. 
For dealers like Enda Conefrey, Dealer Principal at Bradys - a Mercedes-Benz and Seat dealers in Dublin - the extra Brexit paperwork, VAT and tariffs, as well as new VRT bands and nitrogen oxide taxes mean its no longer financially viable to import UK used cars.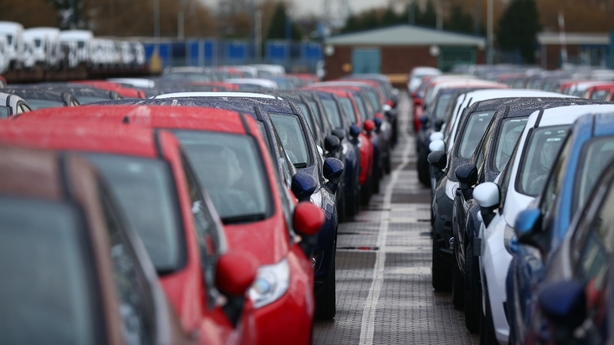 "Essentially all those four elements have mitigated against taking a used car in from the UK at the moment, essentially driving the price outside of any reasonable sense of value for a customer or dealer taking it in to sell a car," Mr  Conefrey said.
"Any margin that was there was eliminated by any one of those items," he stated.
However, he argued that the situation should lead to the car industry here being returned to where it originally was, with a franchise business model.
"If we can get our new car market back to a reasonable functioning level of 140,00-150,000 cars a year, that business alone will generate sufficient used car trade-ins to supply the used car market," he said.
But the last four years has seen declining new car sales and that has had a knock-on effect of not providing enough new car sales in the market, leading to a demand for used car imports.
"If we can get the new car market to the level it should be at we will generate enough used cars into the system," Mr Conefrey said.
New car sales fall by 18% in January - CSO
New Central Statistics Office figures show that a total of 16,948 new private cars were licensed in January of this year, a drop of 18% compared with January of last year.
Today's CSO figures show that the number of used (imported) private cars licensed last month rose by 5.8% to 8,126 from a figure of 7,683 the same time last year.
Despite the drop of 18% in the overall number of new cars licensed last month, the number of new electric cars licensed grew by 27.6% from 579 to 739, while new plug-in hybrid electric (PHEV) cars licensed almost doubled - rising by over 93%.
The CSO said the number of new hybrid and electric cars licensed last month accounted for 32.9% of all new cars licensed. This compared with 20.8% in January 2020.
---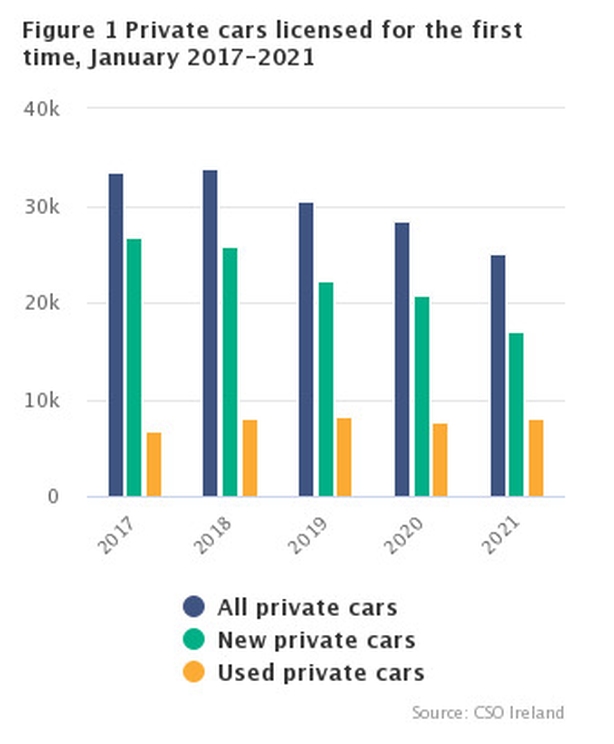 ---
Toyota was the most popular make of new private car licensed followed by Hyundai, Ford, Volkswagen and Skoda. 
The CSO said that these five makes represent 53.4% of all new private cars licensed in January.
Meanwhile, 34.2% of new private cars licensed last month were diesel, compared with 41% in the same period in 2020. 
Of new private cars licensed in the same period, 80.5% were in the A/B CO2 emissions bands, the CSO said.