The effect of Covid-19 restrictions on economic activity in certain sectors was reflected in a marked reduction in gas consumption in those sectors last year.
According to the 2020 Gas Demand Statement from Gas Networks Ireland, there was a reduction in gas usage of over a third on areas such as leisure and laundry.
Gas consumption in construction and travel was down by a quarter, while in the hotel industry it was down by just over 10%.
However, the reduction in these areas was made up for by a surge in demand for gas in areas of the economy that supported the shift to remote working and business being conducted online, as well as healthcare.
Data centres, for example, saw gas demand increase by 27% in the year, with pharmaceuticals, medical devices and hospitals all reporting in increase in gas consumption.
That contributed to overall gas demand falling by a very marginal 0.3% in the year.
Overall residential and small business gas demand fell 3.8% in 2020, despite more than 8,000 new connections to the gas network in the year.
It is understood that milder weather reduced demand for heating, but the impact of Covid-19 restrictions on SME businesses also played a part.
"Increased demand has already been seen in the opening weeks of 2021, where gas demand has come close to record levels on a number of days," Brian Mullins, Gas Networks Ireland's Head of Regulatory Affairs said.
"These high demand levels are being seen without schools and while tourism and hospitality and many business sectors are affected by Covid-19 restrictions nationally."
The statement shows that 58.69TWh (Terawatt-hour) of gas was used in 2020. Around a third of supplies came from Corrib, with just under 2% coming from Kinsale prior to its closure in May.
The gas interconnector to Scotland accounted for 64% of gas supply last year.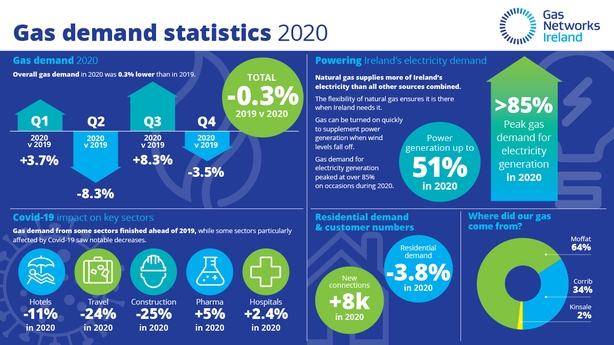 "We have made significant progress in 2020 on our vision to create a net carbon zero gas network," Mr Mullins said.
"We are working to facilitate the introduction of renewable gases such as biomethane and hydrogen on to our network," he said.
"In the near future, these new energy sources will take their place in Ireland's energy mix, ensuring a secure, renewable energy supply and helping to decarbonise, heating, transport and power generation," he added.
The national gas network powered just over half of the country's electricity requirements for the year.
Wind supplied 36.7% of electricity and coal and peat a combined 7.9%, prior to Ireland's remaining peat plants ceasing operation in December.