The Minister of State with responsibility for Financial Services, Credit Unions and Insurance said today's High Court judgment in a number of test cases relating to business interruption insurance claims arising from Covid-19-related disruption was lengthy and complex.
Seán Fleming said the Government's consistent view has been insurers should engage with impacted businesses honestly, fairly and professionally to honour the terms of the policy cover, in line with the Central Bank's Consumer Protection Code.
"Separately, the Central Bank's Business Interruption Insurance Supervisory Framework sets out its expectations of insurance firms in handling Covid-19 related business interruption insurance claims," Mr Fleming added.
While noting that the High Court will return to the issue of quantification of losses at a later date, Mr Fleming emphasised the importance that all insurers offering business interruption insurance carefully assess the ruling and how it may impact upon their policies.
Tánaiste and Minister for Enterprise Leo Varadkar described today's decision as a "very significant judgment in a major test case".
Minister of State for Trade Promotion, Robert Troy, said it was regrettable that businesses "had to take this course of action to have their legitimate claim upheld. I hope now insurance companies will pay out all legitimate claims without delay".
But Sinn Féin's Finance spokesperson Pearse Doherty criticised the Government and the Central Bank over the issue.
"Small businesses should not have been abandoned and left to fend for themselves," he stated.
The Central Bank said it welcomed the judgment of the High Court in respect of the test case on Business Interruption Insurance.
"We will be closely examining the potential impact of this judgment for customers in the context of our sustained and ongoing engagement with relevant firms," the bank said in a statement.
'Vindication for pub businesses'
Noel Anderson, the Managing Director of Lemon & Duke, said today's High Court decision represents vindication for the pub and the other businesses dependent on the outcome of this action. 
"It should never have come to this. I specifically had taken out a business interruption policy to protect us against Covid-19 and its potential impact on our business," Mr Anderson said. 
"Yet in order to have our claim settled we were forced to go through ten months of deep financial uncertainty, significant additional risk in taking this action as well as extensive stress and strain to arrive at an outcome which should have been clear from the outset," he added.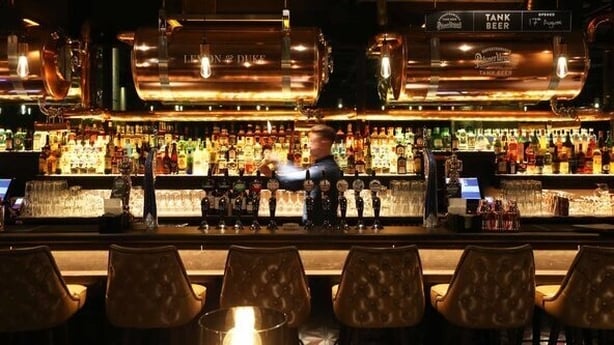 "We would encourage FBD and other insurance providers to reflect on the outcome of this case and where valid business interruption policies exist we hope they will be forthcoming in making payments to the relevant pubs and other businesses impacted as they fight for their survival," he concluded.
Stephen Cooney, executive director of Loyola Group, said he welcomed today court's decision, adding that the court had "roundly rejected" FBD's defence.  
"On behalf of our businesses, our staff and all the 1,300 Irish pubs insured with FBD, we call upon FBD to swiftly accept and implement the court's decision and to make payments to all those insured," he stated.
Mr Cooney said his premises and all the other FBD insured pubs across Ireland were shut in March in response to the Covid-19 pandemic.  
"We had purchased insurance from FBD to cover this possibility and FBD made three separate representations to our directors in the week before closure that we were insured," he said.
"FBD callously reneged on its obligations to us. FBD let us down when we needed our insurance most. FBD's refusal to honour its obligations has meant extreme hardship for our businesses and our staff," he added. 
Call for insurers to settle all valid business interruption claims
The Alliance for Insurance Reform has welcomed the decision of the court.  
Peter Boland, Director of the Alliance, said he was calling on the Central Bank to demonstrate that safeguarding consumers is a priority by publishing an update on the work they have carried out under their Covid-19 and Business Interruption Insurance Supervisory Framework. 
"Keeping that work under wraps merely facilitates insurers determined to minimise their exposure to valid Covid19-related business interruption claims," Mr Boland added.
The Chief Executive of the Vintners Federation of Ireland said while today's decision is good for publicans insured by FBD, it should not have taken ten months for the company to agree to pay.
Speaking on RTÉ's Six One News, he criticised the Central Bank for not taking a position on the matter, saying it showed how weak the bank has been in its support for businesses.
Mr Cribben said he hoped there are other policies similar to the FBD one in this case, and that those companies would now pay out.
However, he said it is a minority of publicans overall that would have this cover.
There is no reason why insurance premiums should rise as a result of today's decision, Mr Cribben said, adding that FBD had made a provision of €30m in their 2020 accounts in the event of a payout in this case.
He said this was a relatively small figure in the context of the company's balance sheet, and while it may have to pay out more than this to the pubs, much of that would be covered by reinsurance by its underwriters.
We need your consent to load this rte-player contentWe use rte-player to manage extra content that can set cookies on your device and collect data about your activity. Please review their details and accept them to load the content.Manage Preferences
The Licensed Vintners Association has also welcomed the decision in favour of three of its members (Noel Anderson, Chris Kelly Group, Loyola Group) and Sean's Bar, Athlone in their case against FDB for Covid-19 business interruption cover.
Donall O'Keeffe, chief executive of the LVA, said the publicans deserve enormous credit as their action will prove critical to pubs with similar policies right around Ireland.
"It was grossly unfair that these family businesses had to go to the High Court against the might of a publicly quoted insurer to have their claims validated," Mr O'Keeffe said. 
The LVA called on insurers to quickly review their business interruption policies in light of today's decision and to promptly pay all valid claims. 
"Given the disastrous impact of the pandemic on the pub trade, today's judgement will provide hope to many publicans all across the country," he concluded.
Brokers Ireland has also welcomed today's decision.
"The clarity the court has now brought to the issue under this landmark case, that clearly has implications for other businesses with similar policies, is very welcome," said Cathie Shannon, Director of General Insurance at Brokers Ireland.
"While the issue of quantifying the losses remains to be determined by the Court later this month, it does hopefully mean that a final resolution is within striking distance," she said.
"It is to be hoped that all who have relevant insurance cover will receive their payouts without undue delay.
"Insurers have an obligation to abide by the provisions of the Consumer Protection Code in respect of their treatment of businesses that are covered by the code, as well as the Central Bank of Ireland's business interruption framework and insurers should consider these when deciding how best to proceed."
Brian Winters of the Save Irish Pubs Campaign called on the Central Bank to direct insurance companies to pay out on claims or let their validity be judged by the courts. 
Speaking on RTÉ's Drivetime, he described the approach of insurance companies to publicans as "disgraceful." 
He said any publican who wants to challenge the insurance on their failure to pay out were told that they could consider arbitration. 
"The cost of an arbitration to an individual will range somewhere between €100,000 to €150,000", he said. "Insurance companies pretty well knew that no individual was going to take on that task." 
Mr Winters said that in many cases, the cap on business interruption is at €50,000 to €100,000, which he said is a small amount to insurers, but "oxygen" for a small rural pub.