Savers amassed an extra €14.2 billion in deposit accounts last year, according to the latest figures from the Central Bank.  
Household deposits increased by €950m in December, over four times the €212m saved in December 2019.  
Deposits hit an historic high of €125 billion in 2020, growing by 12.8% over the course of the year. 
High deposit rates have been one of the responses to the restrictions imposed to tackle Covid-19 which have curtailed spending on many goods and services. 
Last week the Central Bank said these deposits could provide a boost to a future recovery in the economy. 
Today's figures show that overall repayments by households of loans were €580m greater than new borrowings, even with several months of payment breaks. 
The annual growth rate in loans to households was -0.1%. 
Loans for house purchases did increase in the last three months of last year, increasing by €589m, compared to €643m the same time a year earlier. 
The annual increase in home loans was 0.9% compared to 1.9% in 2019.  
Consumer lending was down 4.5% over 2020, compared to growth of 4% in 2019, the Central Bank said.
In the last three months of last year, consumers repaid more than they borrowed by €5m, it added. 
---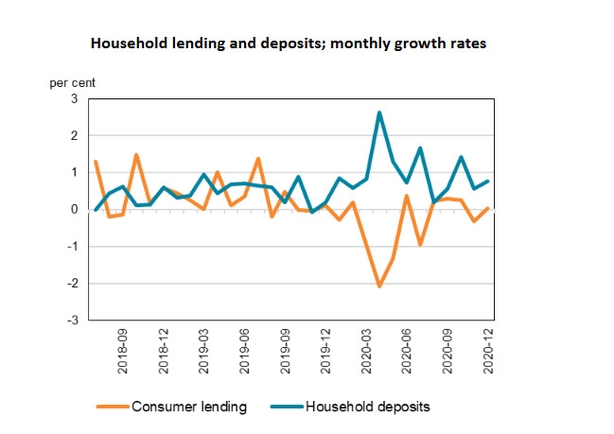 ---
Consumer spending up by 21% in December from November 
Spending by consumers recovered strongly in December, according to the latest credit and debit card statistics from the Central Bank. 
However, spending has fallen this month by more than during the last period of Level 5 restrictions during October and November.  
A total of €7.8 billion was spent using credit and debit cards in December, an increase of 21% over November and an increase of 1% in annual terms. 
The biggest increases were in retail spending and in restaurants. 
Restaurants saw an increase in spending of 66% in December but on an annual basis, spending was down 12%.
Overall retail spending was up 22% on November and 18% over the year. 
Spending on clothing saw a massive 60% increase in December. Groceries continued their strong growth - up 22% in December and increase of 23% compared to December 2019. 
Hardware purchases declined by 2% in December but are still up 26% compared to a year ago. 
Spending on hotels was up a massive 94% in December but the sector is still down 38% compared to a year ago. 
Expenditure online was down 7% in December compared to the previous month as more shops opened and many online purchases were conducted during 'Black Friday' promotions, mostly in November.
But overall online expenditure in December was still 21% higher compared to the previous year. 
---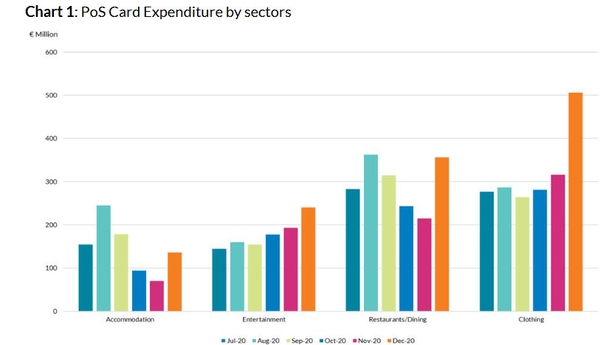 ---
Today's figures also showed that ATM withdrawals continued their downward trend with amounts down 37% compared to December 2019. 
The Central Bank noted that the latest figures show that spending has fallen sharply since Christmas Eve and the reimposition of Level 5 restrictions. 
In the week to January 25, spending on credit and debit cards was down 13% compared to the average spend during January 2020. 
This is a bigger decline than seen during the Level 5 restrictions in October and November, it noted.