The amount of office space leased in Dublin in the last three months of 2020 was the lowest in a decade, according to a new report by property consultants CBRE.
The report found that the total amount of leased office space in 2020 was just over half the total volume leased in 2019.
The total amount leased last year was 160,000m², down 47% on the previous year.
CBRE said that 105 leases were signed in 2020 compared to 199 in 2019.
27 of the lettings were to US companies which accounted for 68% of the space leased. There were 52 lettings to Irish companies, accounting for 23% of space let.
69% of the leases were signed in the first three months of 2020, before the pandemic hit, the property consultants noted.
Leasing volumes were higher in the final three months of last year, but they were still the lowest in over a decade.
Rents for prime office space in the city centre declined by 8% over the year but prices remained stable in the suburbs. The rate of vacancy rose from 8.64% in the third quarter to 9.1% in the fourth quarter.
CBRE said the Dublin office market has effectively been "on pause" for the last nine months.
It said that activity was largely reliant on relatively small lettings to occupiers who are coming up to particular lease events or occupiers looking for an opportunity to secure favourable terms while there is increased availability in the market.
But this window of opportunity is likely to be relatively short-lived however.
CBRE said it believes that activity will kickstart relatively quickly in this sector once office workers return to their places of work and companies have more clarity on how much office accommodation they will ultimately need longer term post-Covid-19.
---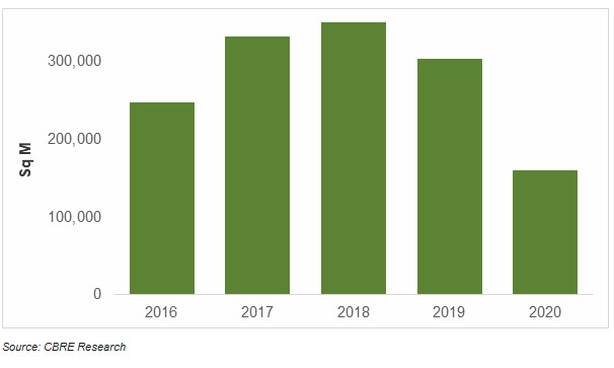 ---
Activity has improved since news of vaccines was announced and CBRE said it expect to see a notable pickup in office leasing activity from the second half of 2021 onwards as economic activity improves and several postponed mandates are reignited.
It predicted that demand is likely to be mainly led by pharmaceutical companies and the technology sector.
But it said that unlike recent years when take-up in the Dublin office market was significantly boosted by multiple large takes of accommodation, it expects to see fewer large transactions being signed during 2021.
"This will encourage some landlords to adopt a multi-let strategy in order to reduce vacancy in particular buildings and generate income as opposed to holding out for longer to secure a single occupier," it stated in today's report.
CBRE said the occupational needs of companies will change as a result of the outbreak of Covid-19, and while companies may not necessarily need less office accommodation, the way they use that accommodation will definitely change.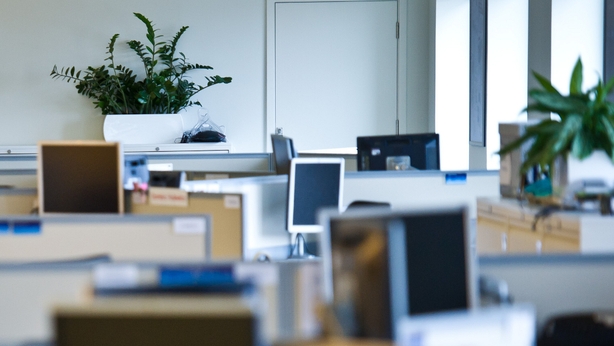 It said that employers worldwide will have to think seriously about the configuration of their office buildings, how efficiently accommodation is being used and how this might change in the future, with an increasing proportion of staff likely to work remotely, either from home or another "third place", at least part of the time.
"Some multinational occupiers may embrace a geo-flex model whereby some of their staff will be based in another jurisdiction entirely, albeit this will have certain tax implications," it added.
The property consultants also said that the design of office buildings will change, with more flexible layouts and the use of microbial materials and touchless technology necessary to future-proof buildings.
"Sustainability has become even more important than ever in the last 12 months and CBRE expect to see increased focus on wellness, ESG and green credentials in 2021, both for new office buildings and those that will have to be retrofitted or repurposed," it added.
"With most office occupiers throughout the country forced to work remotely from mid-March onwards and a travel ban restricting everyone's movements including IDA Ireland and potential occupiers, unsurprisingly, company expansion and relocation plans were put firmly on hold as organisations grappled with the changed economic backdrop," Marie Hunt, Executive Director and Head of Research at CBRE said.
But Ms Hunt said that unlike the last cyclical downturn following the financial crisis, the office market has been better able to withstand the downturn in leasing activity experienced since the onset of Covid-19.
She said one of the main reasons for this is the very disciplined supply response of recent years, with much of the office stock under construction in the capital already accounted for.
"Furthermore, the office market entered this downturn from a position of strength, with the overall rate of vacancy in Dublin at a low of around 5% in early 2020," Ms Hunt said.
"While the vacancy rate in the capital did increase during the last year, this was primarily as a result of an increase in the availability of "grey space", as opposed to a large volume of new speculative stock coming on stream," she said.
"Another major difference to the last cyclical downturn is the more secure make-up of the office occupier base, with several of the city's largest multinational tenants involved in industries that were largely unaffected by the pandemic. Many of these organisations have plans to grow their Dublin footprint over the coming years," she added.