New Central Statistics Office figures show that almost six in ten enterprises in Ireland availed of the State's Covid-19 employment-related support schemes in the months from March to September.
Today's CSO figures show that 54.1% of enterprises put their employees on the Pandemic Unemployment Payment (PUP) during this period - this figure also included self-employed people.
Meanwhile, 21.4% of enterprises also received a subsidy from Revenue's Temporary Wage Subsidy Scheme (TWSS) or Employment Wage Subsidy Scheme (EWSS) at some point between March and September.
The month with highest uptake of employment-related support was April when 57% of enterprises had staff in receipt of TWSS or PUP.
The CSO said this declined each month to September when 29.2% of enterprises availed of support - the lowest month in the period covered.
Those businesses with PUP recipients followed the same trend, peaking in April at 51.8% before declining to a low in September at 24.1%.
The TWSS peaked in July at 16% with the lowest uptake in March at 3.9% with the CSO noting that the scheme only started on March 26.
In September 10% of enterprises availed of the EWSS which had replaced the TWSS, the CSO said.
---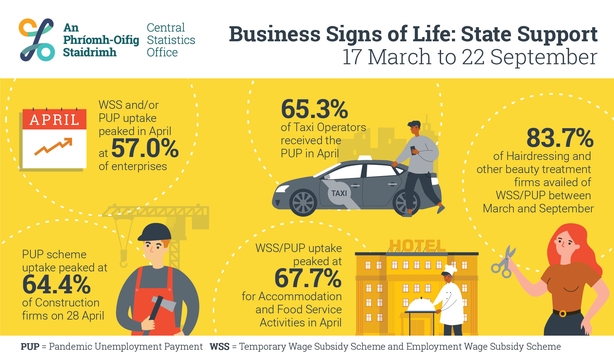 Today's figures show the sector with the highest proportion of businesses that had all staff on PUP in April were Other Service Activities - this includes hairdressers, funeral services and gyms.
It was followed by construction and transportation and storage.
Other activities with high levels of employment-related support take up were plasterers, painters and fitters, restaurant and mobile food services, beverage serving activities, hotels and taxis, the CSO said.