Thousands of Irish people won't make it home this festive season, but their friends and family are sending them a taste of home.
Businesses like The Paddy Box and Ireland's Artisan Pantry are working hard to keep up with demand, sending Christmas boxes and hampers across the world.
The Paddy Box was established in 2017 by Mark Loftus who was sending care packages to friends working abroad.
The Irish diaspora is spread across the globe, and most miss the brands they associate with home such as Taytos, Cadbury's chocolate, Ballymaloe relish and McDonnell's Curry Sauce.
He saw the business opportunity. "It's a lot of the nostalgic, iconic brands that are in The Paddy Box. When people are abroad they become even more patriotic," Mr Loftus said.
The company have pre-made boxes and customers can customise them as well. "We have a Christmas box at the moment with your selection boxes and Cadbury's Roses and a decoration."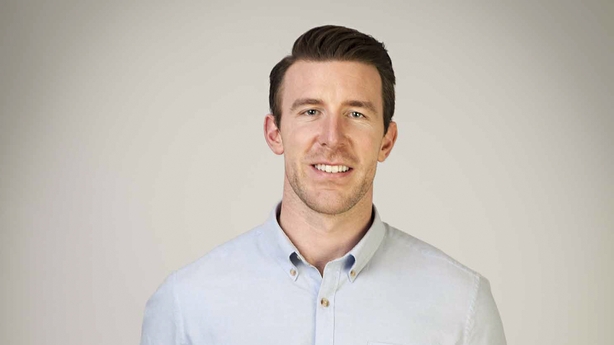 The pandemic has led to a dramatic increase in sales.
"We were going really well before that, then in March it really kicked off in a massive, massive way. We've probably gone up by around 500%. March to May was insane because of lockdown, then it plateaued during the summer months, and then in October, it went up by about another 200%."
Mr Loftus said he is very grateful for the business and support, and glad to be able to give people a taste of home. "It's been overwhelming almost, the amount of orders. This has been a landmark of a year for the business."
Aoife O'Driscoll Mansergh is the business woman behind Ireland's Artisan Pantry, which she set up four months ago.
She had been working in tourism marketing for over 15 years, and noticed a gap in the market for Irish food producers.
She delivers subscription boxes of artisan food to customers, introducing them to a minimum of six small batch food producers from different counties every month.
"Before I started this business, I thought I knew Irish food and I thought I knew the makers but I'm discovering new people every week," Ms O'Driscoll Mansergh said.
"At the moment we are working with over 40 Irish artisan producers. We're working with the Birds and the Teas from Co Wicklow who produce chutneys and jams. We are working with Neary Nogs in Northern Ireland who are really talented chocolatiers, so there is just such an abundance of talent in the food community around Ireland."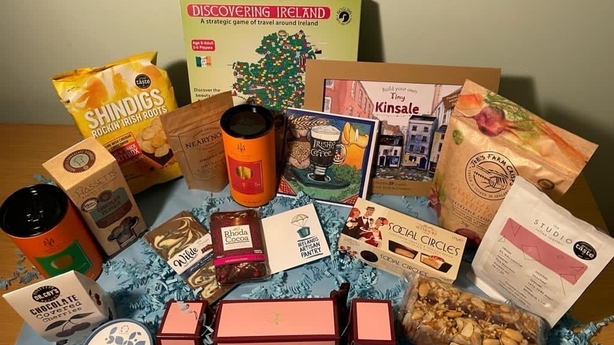 The business is doing well, and she is inundated with orders particularly in the run up to Christmas.
"It's going exceptionally well. It's really, really busy. We weren't expecting the level of response that we've had and we're absolutely delighted by it," she stated.
For many artisan food producers, the coronavirus pandemic threatened their business, cancelling festivals and events such as the Gifted Fair in the RDS, where they would normally generate income.
"They had nowhere to sell, and I think with businesses like ourselves and other online retailers, it's been really good for them to be able to get out there and sell their wares.
"I can see many of them have put up websites since then, which is brilliant, and hopefully when we come through this, and we will come through it, they will have a new revenue stream, in addition to their more traditional ways of selling."
When customers are sending food hampers as gifts, they include notes which shed some light on Irish life as we approach Christmas 2020.
"One of my favourite aspects of the job is writing a hand written note with every hamper we send out," Ms O'Driscoll Mansergh said.
"It's very hard for people at the moment because they can't be together. You can see people celebrating the birth of a new baby or maybe a new home, or somebody has passed away, and the only bit of comfort they can provide is to send something to those people if they can't be there, and I suppose food is a way of sending a virtual hug. It's a very shared experience."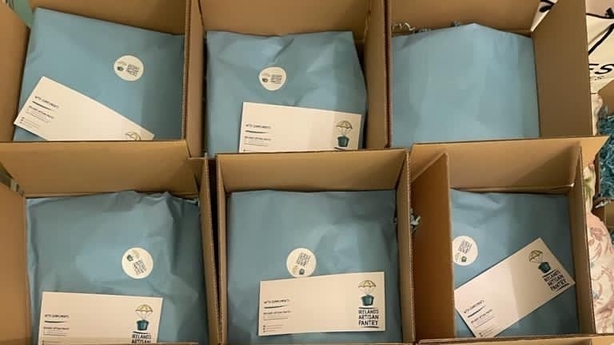 The Paddy Box is witnessing the same outpouring of love and support in the messages being sent to loved ones abroad.
"Some of them are heart wrenching, heartbreaking and heart warming as well," Mr Loftus said. "We've seen how nice and good the Irish people are, that they are really thinking of each other, and everyone is thinking of each other at this time."
While the pandemic has boosted business, the people behind The Paddy Box and Ireland's Artisan Pantry believe their businesses will continue to thrive.
"Our business has grown so much and our pool of customers is so big that I'd like to think that it will continue," Mr Loftus said. "We pride ourselves on customer service. We get a lot of repeat business from that, and hopefully with word of mouth, our business will continue to grow."
Ms O'Driscoll Mansergh said people's ways of shopping have changed. "The customers that have come on board with us, a lot have shopped with us for the first time. I think now that they are comfortable with that I think many will continue to do so.
"I've already had enquiries for St Patrick's Day and for Easter," she said.