Ireland exported a total of €152 billion of goods and imported €91 billion worth of goods last year, new figures from the Central Statistics Office show today.
The CSO said that more than €57 billion of the country's exports went to EU countries, and a further €15 billion was exported to the UK.
Ireland imported more than €33 billion from the EU and €20 billion from the UK.
The country also imported €14 billion from the USA and more than €12 billion from Asia, the CSO added.
The CSO said the proportion of trade with the UK has fallen from 28% of total exports in 1994 to 10% in 2019, and from 37% of total imports in 1994 to 22% in 2019.
Ireland exported almost €4 billion of food and beverages to the UK in 2019 and imported €4.3 billion, it added.
Meanwhile, exports to Asia have grown from €1.3 billion in 1994 to €17.4 billion in 2019, while imports have grown from €2.8 billion to €12.3 billion over the same time period.
Ireland's largest trading partners in Asia are China and Japan and the country exported €8.2 billion of goods to China in 2019 and €2.8 billion worth of goods to Japan.
The country imported more than €5 billion from China, €1.1 billion from Japan, and a further €1 billion from both Malaysia and South Korea last year.
Today's figures also show that Ireland exported €1.7 billion to Africa last year, with South Africa the country's biggest African trader.
Ireland also recorded €867m of exports to Oceania, and €170m of imports. The largest value product was wine, with €30m imported from Australia and €24m from New Zealand.
---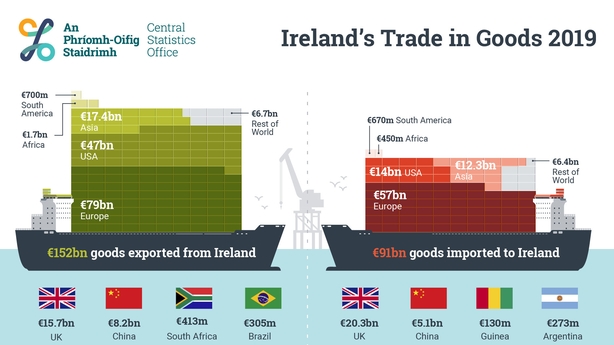 ---
2019 also saw exports of more than €700m to South America, of which €305m went to Brazil.
The CSO reported €670m of imports from South America, which included 16.5 million litres of wine from Chile, 145,000 tonnes of coal from Colombia and 10,500 tonnes of apples
Today's CSO figures reveal that almost one-third, or €49 billion, of our exports last year were medical and pharmaceutical products. Organic chemicals accounted for €30 billion of exports.
They also show that more than €21 billion of imports in 2019 were aircraft, mainly due to the activities of aircraft leasing companies.
Meanwhile, Ireland imported more than €2 billion of clothing and apparel, of which over 60% came from Asia.
The CSO noted that more than 56 million ladies' and girls' T-shirts were imported last year, while over 30 million jumpers for women were also imported. Of these, 46 million and 23 million respectively came from Asia.