The number of planning permissions granted for new homes in the third quarter of 2020 rose by 22.2% to a total of 12,942, new figures from the Central Statistics Office show today. 
Of these planning permissions, 7,214 were for apartments and 5,728 were houses. 
The CSO said the number of apartment units for which planning permission was secured increased by 27.5% in the third quarter of this year compared to the same time last year.
There was an annual increase of 16.1% in the number of houses getting the planning go-ahead, it added.
The third quarter of 2019 saw, for the first time, more apartments than houses getting planning permission and this trend has continued up to the current quarter. 
The CSO said that in the first three quarters of 2020, apartment planning permissions accounted for between 55% and 66% of those granted for total dwelling units.
Today's figures also show that one-off houses accounted for 13.6% of all homes granted planning permission in three months from July to September. 
The CSO said the total number of planning permission granted for all developments was 8,530, compared with 7,739 in the third quarter of 2019 - a rise of 10.2%. 
Of these, 55.6% were for new constructions, 27.8% for extensions and 16.6% for alterations and conversions. 
---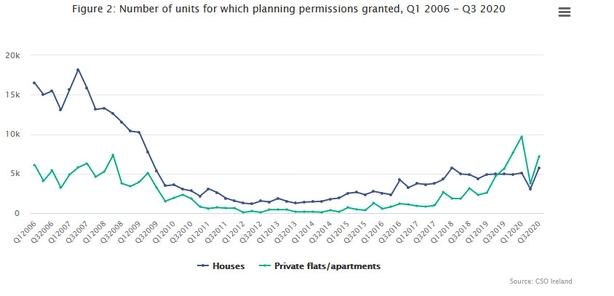 ---