Paddy Power was the most talked about Irish brand on Twitter, according to new data from Sprout Social, the Chicago-based social media analytics and management company.
Sprout Social has its Europe, Middle East and Africa headquarters in Dublin.
The Paddy Power bookie chain led the way from second placed Ryanair, with more than 105,000 mentions on Twitter in 25 weeks between June and November compared to Ryanair's 75,954 Twitter mentions.
The top five included Primark (which trades as Penneys in Ireland) with 9,797 Twitter mentions, Aer Lingus on 8,168 Twitter mentions and Guinness Ireland with 5,158 Twitter mentions.
Sprout Social said that both Paddy Power and Ryanair leverage a strategy focused on entertaining posts and content.
It said this aligns well with what their audiences are looking for as 59% of Irish consumers say they are most likely to engage with posts which they deem entertaining on social media.
Sentiment towards all brands in the top five remains strong despite the challenges posed by Covid-19, with the Sprout Social data showing a higher proportion of positive posts compared to negative.
Primark and Ryanair ranked highest for positive sentiment (45%), followed by Guinness (41%).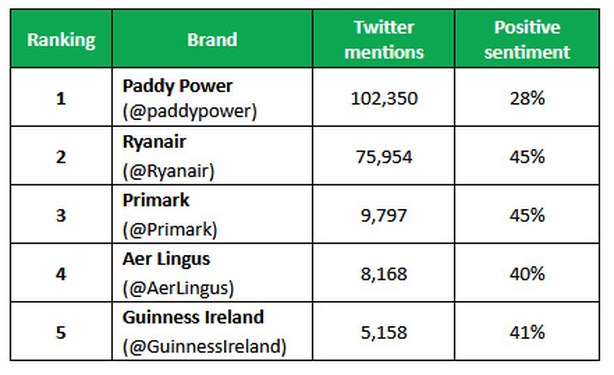 Gerard Murnaghan, Sprout Social's General Manager and Vice President EMEA, said that with the onset of the global Covid-19 pandemic, organisations across every segment and industry are being forced to think differently and prioritise social media as a long-term business strategy as opposed to simply another communication channel.
"The Irish brands on our list are prime examples of this with a strong share of voice on the international stage, along with a healthy presence in their home market, highlighting how they are continuing to reach their audiences even when face-to-face interactions and typical operations have dramatically decreased," Mr Murnaghan said.
"Many of the shifts we have seen in how people communicate and connect will define the business landscape for years to come, making it particularly important for brands to take note from those on this list in viewing social as a key to customer insights and cultural relevance," he added.