The Irish whiskey industry invested a total of €1.55 billion in the all-island economy from 2010 to 2020 as the value of Irish whiskey exports from the island of Ireland reached €890m last year, a new report shows. 
The report, published by Drinks Ireland|Irish Whiskey Association, also reveals that global sales of Irish whiskey grew from 60 million bottles in 2010 to 144 million bottles in January 2020. 
The industry directly employed 1,640 persons before the outbreak of Covid-19 and Irish whiskey was the world's fastest-growing spirits category of the past decade.
Today's report also shows that the industry contributed €686m in Gross Value Added (GVA) to the economy, with GVA per employee of €412,756, the highest across the entire Irish food and drink industry.
There were just four distilleries operating on the island of Ireland in 2010, but 10 years later there are 38 distilleries working in towns and villages throughout Ireland.
Theses distillers are creating jobs, attracting visitors and seeing the restoration of distilling to areas which once had rich traditions in whiskey production.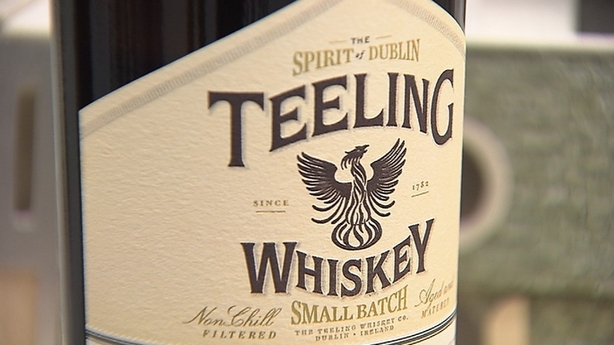 "We have seen hundreds of millions of euros invested in leading distilleries such Tullamore and Midleton, while new distilleries such as Teeling Whiskey Distillery in Dublin 8 and The Shed Distillery in Drumshanbo, Co Leitrim have played a pivotal role in the regeneration of their respective communities," William Lavelle, the head of Drinks Ireland|Irish Whiskey Association, said.
William Lavelle said that Irish whiskey still has many opportunities for further growth, including the potential that market diversification offers in terms of growth in Asia and Africa as well as the emergence of e-commerce as a major new sales channel for spirits.
"However, our industry also faces challenges, from the declining spring barley base in Ireland to the threats posed by protectionism and the divergence Brexit will bring to our all-island industry. Our industry has proven to be resilient and we will get through these," he added.
David Stapleton, the outgoing Chairman of Drinks Ireland|Irish Whiskey Association,  said that while 2020 has been an extremely difficult year, the Irish whiskey industry has proven itself to be resilient. 
"After decades of decline, we have experienced a remarkable decade of recovery between 2010 and 2020. That recovery will continue," he said. 
"The industry is ready to bounce back in 2021, and march into the next decade with a focus on the continued growth of Irish whiskey sales," he added.