AIB has reaffirmed its plans to cut 1,500 roles at the bank between now and 2023 in an effort to reduce operating costs.
The bank is also to vacate three of its six Dublin head offices and plans to merge five overlapping branches in three urban locations.
Earlier this year, the bank revealed plans to reduce is staff headcount by 1,500 over three years in a bid to lower costs and increase its profit margin.
However, that strategy was put on hold with the arrival of the Covid-19 pandemic.
Presenting the results of its revised strategic review to analysts this morning, AIB chief executive Colin Hunt, reaffirmed the bank's intention to proceed with the workforce reduction.
The reduction will be achieved through a combination of normal retirements, natural exits and voluntary severance, with the voluntary severance programme which was paused in March reopening in early 2021.
But Mr Hunt also said that 400 new roles will be created in change and digital disciplines.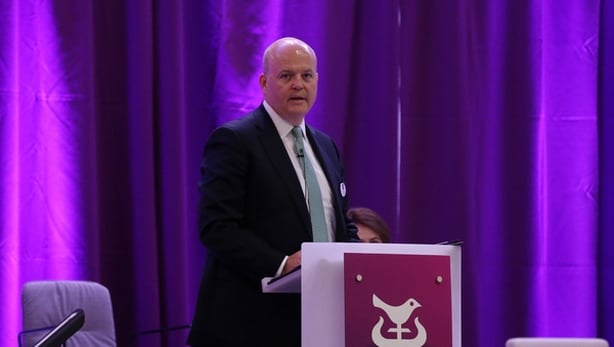 However, the Financial Services Union said the plan is ill timed and should be postponed.
General Secretary John O'Connell said there had been minimal engagement between the bank and unions.
"We are still in the middle of a world -wide pandemic. No major announcements on job cuts should be made at this stage, particularly by a Bank that is part owned by the Irish Government," said Mr O'Connell.
AIB said its decision to exit three buildings in Dublin over the next three years as leases expire stems from the proven capability and effectiveness of remote working, a lower headcount and the need to reduce costs.
Earlier this week the bank completed the exit from its former headquarters at Bankcentre in Ballsbridge and it will leave a nearby premises at Hume House by the end of the year.
The bank is also to merge five overlapping branches in Dublin, Cork and Galway in the first half of next year.
In Dublin, AIB's Westmoreland Street operations will move to its Dame Street branch while the Crumlin Cross branch activities will transfer to Crumlin Road.
The operations of 52 Baggot Street will move to 1-4 Baggot Street.
In Galway, Eyre Square will move to Lynch's Castle while the Patrick Street branch and the outlet at 66 South Mall in Cork will also merge.
The lender said the move was prompted by Covid-19 rapidly accelerating customers' preference for digital banking.
The bank said it will cut costs by 10% more than announced earlier this year to meet capital and profitability targets by 2023, saying the Covid-19 crisis made significant change both necessary and possible.
AIB set out new medium-term targets on March 6, a week before Ireland began to impose Covid-19 restrictions, leading to one of Europe's longest lockdowns that forced Ireland's largest mortgage lender to set aside €1.3bn in impairments.
In March, AIB said it planned to cut its cost base to €1.5 billion euros in 2022, target a fully loaded core equity tier 1 (CET1) capital ratio above 14% and a return on tangible equity (ROTE) in excess of 8%.
It maintained the CET1 and ROTE targets on Wednesday but pushed the timeframe out by a year following the COVID-hit 2020.
However, the bank said it now plans to cut its costs before bank levies and regulatory fees to €1.35bn in 2023.
SME lending in the UK
The bank also said it plans to exit SME lending in the UK, creating a cost saving of €35m.
Instead it will focus will be on lending to corporates in the renewable, infrastructure and manufacturing sectors.
The bank also said it is looking at ways in which it might enhance and diversify its revenue stream, including in life, pensions and investments, in order to become a full financial services provider.
AIB is reported to be in talks to buy stockbroker Goodbody and Colin Hunt, while not naming names, did confirm that the banks is in active discussions with a number of parties with a view to plugging gaps in these areas.
The lender also said it aims to give priority to improving its digital services, in order to give customers faster and more efficient to products and services.
"Our plans are now in place to ensure AIB's long-term sustainability as a major supporter of Ireland's economy and our 2.8 million customers," said Mr Hunt.
"Our strategic plan, which will be implemented over the next three years, has been influenced by the accelerating effect of Covid-19 on customers' preference for digital banking and emerging new trends in how and where our people work. "
"Our heightened focus on cost controls, the pursuit of new growth opportunities and our investment in digital innovation will enhance the range of financial services and products for our customers, while generating value for our shareholders and putting the bank on an even stronger footing to meet the challenges ahead."