The Minister for Finance has said that the Covid Restrictions Support Scheme (CRSS), which offers up to €5,000 to businesses closed or severely impacted by Covid-19 restrictions, will be extended by one week.
The extension is aimed at helping small and medium business with the costs of re-opening. 
Speaking on RTÉ's Claire Byrne programme, Paschal Donohoe said that the policy would continue to support businesses as restrictions are eased next week. 
The Minister said the Government will have borrowed between €18-23 billion by the end of this year as a result of Covid-19, but has benefited from a historically low interest rate in doing so. 
He said that Ireland's deficit will be approaching 7% by the end of the year, which compares very favourably to other countries, including the UK, which is facing a deficit of between 17-20%.
Mr Donohoe said if the Government did not take the exceptional measures it has taken that have resulted in the extra borrowings, future generations might have less chance of keeping a job now or getting one in the future. 
The Minister said the additional borrowings from the European Central Bank was due to the pandemic, and not economic mismanagement.
This would be reflected in lower interest rates that should hold for up to 11 years, he added. 
He said that he hopes Ireland will be back in a position of surplus in its finances by the time interest rates change. 
We need your consent to load this rte-player contentWe use rte-player to manage extra content that can set cookies on your device and collect data about your activity. Please review their details and accept them to load the content.Manage Preferences
Once the public health situation allows, Mr Donohoe said the Government would begin the work to reduce its borrowing requirements - this is likely to happen later in 2021 and into 2022. 
He said that to do this, it will seek to reduce supports for employers as they are able to re-open businesses and as economy re-opens deliver additional tax revenue that have been lost.
But for now the focus is on getting people back to work, as that is the biggest thing that can help to reduce the deficit, he stated. 
Minister Donohoe also said that plans to look at public pay have not been made yet, but work is underway in this area.
He said that not further decision on the PUP rates will happen before January. 
The Minister for Finance also said it was "appropriate" that the Government should have as much information as possible before it makes decisions that have vast impact on public health but also on the economy. 
The Cabinet is due to meet later this week to decide on the guidance on Christmas gatherings that will be issued by Government, with a final decision set to be taken by Cabinet on Friday.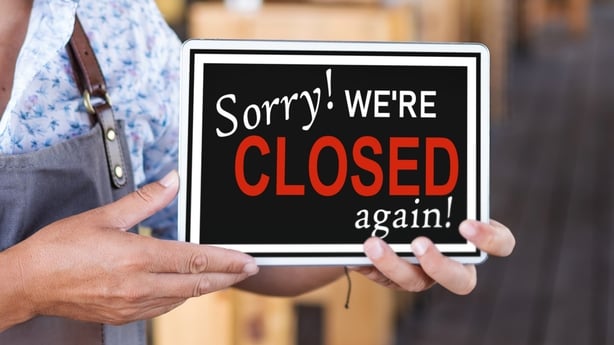 Minister Donohoe said the advice of the National Public Health Emergency Team is in relation to public health, but the Government must also consider the economic implications of decisions that are made.  
Paschal Donohoe said the Government is about to make very, very significant decisions for hundreds of thousands of people in the country and in the economy, who are worried about if they are going to get a job back while others are worried about whether they are going to keep a job.
"In addition to that, we're about to make very significant decisions that will affect our well being; will affect human contact at the end of a very difficult year," Mr Donohoe said. 
"Surely I think it's appropriate that if we are doing this work, that we're in a position that not only do we have as much information available to us as possible, but we have different options in relation to how we analyse and interpret that data," he stated.
On Brexit, Paschal Donohoe said he is very concerned about the possibility of EU negotiations failing to reach a trade deal with the UK, adding that this would have "a profound effect" on the Irish economy. 
Mr Donohoe said that he has "every reason to be confident about the ability of the Irish economy to respond to the challenges we may yet face".
He said that all will be done at EU level to get a deal and to protect the single market and ensure that "we have the right decision process for fair competition in the future".