Irish Continental Group has reported a 26% drop in revenues for the first ten months of the year as the number of cars it carried on its ferries slumped by 66.8%.
In a trading update, the Irish Ferries owner said its revenues for the ten months to the end of October fell to €229m, a decrease of €79m on the same time last year.
ICG said its ferries division faced challenging trading conditions after the continuation of travel restrictions across the EU which were first introduced in the middle of March due to the Covid-19 pandemic.  
It said that car volumes were down 66.8% to 122,700 from 369,700 the same time last year, with total passenger volumes down 68% compared with 2019. 
ICG said this has had a material impact on passenger revenues, which were 71% lower in the year to October 31 compared to 2019.
But it added that its Irish Ferries ro-ro freight carryings have been more robust with retention of full freight schedules providing critical logistical links to the island of Ireland, with ro-ro freight carryings up 4% compared with 2019. 
ICG said the impact of Covid-19 has been more limited in its Container and Terminal Division. Compared to last year, container shipments are down 9% with container lifts at its terminals in Dublin and Belfast down 12%.
Due to the "severe" decline of passenger business during the Covid-19 outbreak, some ferry routes out of Ireland which are critically important in providing essential services became cash negative. 
The Government recognised the need to help certain sea routes remain open and adopted a Public Services Obligation (PSO) model covering the shortfall between variable revenue and certain variable costs. 
But ICG said it did not support this approach as it believed the model was liable to create distortions in the marketplace and could be open to legal challenge.
"For these reasons we decided not to participate in this PSO model, but we committed, without any specific government support, to continue operating our lossmaking routes which provide a vital lifeline service to our island," it said. 
The PSO scheme ceased in July.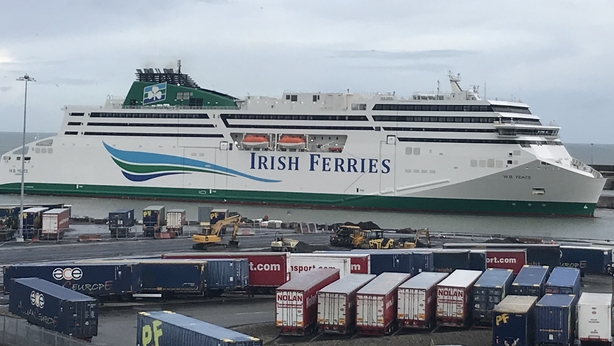 "We will closely monitor the Government's future response to assistance for shipping and aviation to promote against any potential funding mechanism that may lead to any market distortion," it added.
On Brexit, ICG said that its ferries division is highly dependent on trade flows between Ireland and the UK and any slowdown in either economy as a result of the exit of the UK from the EU will likely have an effect on Irish Ferries' carryings. 
"We continue to work with all relevant regulatory authorities to ensure that our systems are prepared for the end of the transition period.  Our customers also need to be prepared for the administrative changes that will come about when trading with the UK from 1 January 2021, regardless of a deal between the EU and the UK," the company stated.