Carbery Group has completed the €78m expansion of its West Cork headquarters, which is part of an attempt by the dairy and ingredients company to reduce its reliance on the British market post Brexit.
The new facility in Ballineen means the maker of Dubliner Cheese will be able to produce new varieties of cheese - including mozzarella and grilling cheese - for sale in Europe and Asia.
The new production facility will process 19 million litres of milk a week during peak supply, from over 1,200 farmer suppliers.
The company will sell the products under a new brand, Carbery Dairy.
Carbery makes Dubliner Cheese and Carbery Cracker for the Irish market as well as cheese for export under the Ornua brands. It produces 55,000 tonnes of cheese a year - 25% of all cheese made in Ireland.
This is set to increase to 64,000 tonnes with the new expansion now in place.
Founded in 1965, Carbery Group is wholly owned by the four West Cork Co-ops - Bandon, Barryroe, Drinagh and Lisavaird.
As well as funding from Carbery's existing lenders, the €78m investment is part funded by a €35m loan from the European Investment Bank.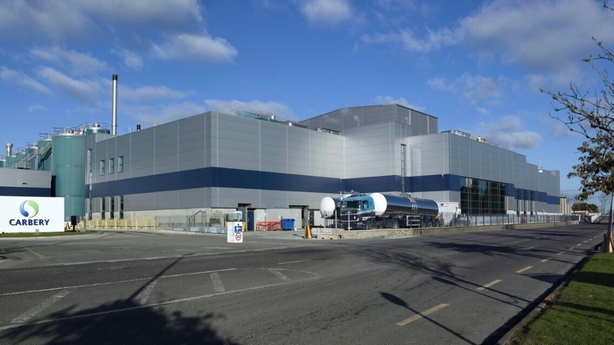 This loan was the first granted by the EIB to an Irish agri-food group and represents the first direct EIB support for investment in the Irish cooperative sector in 45 years and the first Irish investment under the EIB's dedicated streamlined agriculture financing programme.
The chief executive of Carbery Group, Jason Hawkins, said the company's cheese diversification strategy has been in the works now for a number of years
"It's a significant investment for us, in financial terms, but also in terms of our strategy, our people and market research," Mr Hawkins said.
"Our teams across the business have been working extremely hard on this project and we are really looking forward to bringing our products to new markets and returning value on this investment to our farmer shareholders. This diversification will create new markets and value for our West Cork milk suppliers," he added.
The CEO also said that 2020 has been a challenging year for us all, and Carbery has been no exception.
He thanked Carbery's employees and in particular everyone involved with the cheese expansion project, for continuing to push to deliver this project even through the extremely difficult circumstances that Covid created during the year.