There was a pick-up in activity in the property market in September, according to the latest figures from the Central Statistics Office. However, overall levels of house purchases remain significantly below where they were last year.
The CSO has also for the first time published quarterly price trends and broken them down between new and existing dwellings.
Today's CSO figures show that 3,193 property transactions were filed with Revenue in September.
80.9%, or 2,584, of these were for existing dwellings and just 609 or 19% were for new dwellings.
The CSO said this marked an increase of 35.4% in transactions compared to August but it is still 22.2% down on the number of transactions the same month last year.
Residential property fell by 0.8% in September nationwide, the third month of falls in a row.
Quarterly figures show the price of new dwellings in the three months from July to September rose by 1.7% compared to the same period last year. However, the price of existing dwellings fell by 1.6%.
In the year to September 2020, the median price of a property in the country was €257,290.
---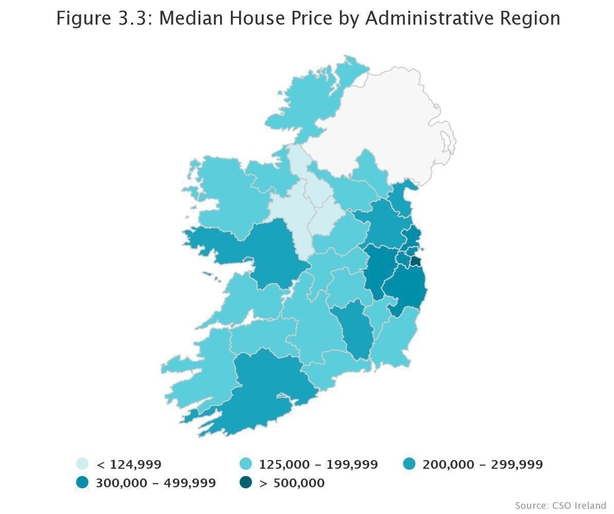 ---
The lowest median priced property in the country was in Leitrim at €107,000 while the highest median price remains in Dun Laoghaire Rathdown at €535,000.
The new quarterly index shows the price of new dwellings has risen 71.6% from its trough in the second quarter of 2013 while the price of existing dwellings has risen 82.2% from its low point in the second quarter of 2012.
Today's CSO figures also show that Dublin residential property prices saw a decline of 1.8% in the year to September, while property prices outside Dublin were 0.1% higher.
Dublin house prices decreased by 1.6% and apartment prices decreased by 0.6% in September, the CSO said.
The highest house price growth in Dublin was in Fingal at 2.1%, while Dublin City saw a decline of 4.2%.
Outside Dublin, house prices were up by 0.2% and apartment prices up by 0.4%.
According to the CSO, the region outside of Dublin that saw the largest rise in house prices was the Midlands with growth of 4%. But at the other end of the scale, the Mid-West saw a 5.7% decline in prices.
The CSO said that property prices nationally have increased by 83.7% from their trough in early 2013.
Dublin residential property prices have risen 91.5% from their February 2012 low, while home prices in the Rest of Ireland are 83.9% higher than at their lowest level in May 2013.