Dublin-listed property group Hibernia REIT has reported strong rent collection rates among its tenant base for the six months to the end of September.
Hibernia REIT said it rent collection rates are running at 99% among commercial tenants and 98% for residential tenants.
It noted that 60% of its contracted rent roll is from technology companies or state entities
It said its annual contracted rent stood at €66.5m in September, up 1% from March.
But it also reported a modest decline of 3.8% in its portfolio value, which fell to €1.421 billion from €1.465 billion at the end of March - the first drop since its IPO.
Hibernia REIT said it has two office schemes on track to complete in early 2021, which will deliver 62,500 square feet of Grade A office space. 38% of these office are pre-let. 
It also has major office developments which are fully planning approved and ready to start in next 12-26 months. 
Work on Clanwilliam Court and Marine House can start in early 2022, while its Harcourt Square development is due to start in early 2023.
Given the Covid-19 restrictions and associated market conditions, Hibernia REIT reported a "quiet" six-month period for investment activity across the Irish property market. 
It made no disposals and invested €3.8m in two smaller acquisitions, both of which are adjacent to existing Hibernia assets and are bolt-on in nature. 
Looking at the Dublin office market as a whole, Hibernia REIT said the Covid-19 crisis has caused many potential occupiers to postpone or cancel their plans to take space in the near term.
It said that while recent news on vaccine development has been positive, it is hard to envisage there being a significant recovery in demand until there is a clear pathway for workers to return to their offices in meaningful numbers. 
"It is difficult to discern trends amongst our existing office tenants regarding their expectations on their longer-term workspace requirements at present and indeed it is likely that many of them do not know at this stage," the company said. 
Hibernia REIT said that in its view, the Covid-19 pandemic is accelerating changes in working patterns that were already happening, such as more remote working, a greater focus on collaborative workspace within offices, increased importance placed on employee wellness and buildings' sustainability credentials. 
"This is something we had been factoring into our building designs already, as can be seen in the Windmill Quarter," it stated. 
Kevin Nowlan, chief executive of Hibernia REIT, said that despite the challenging environment in the six months to September, the company made significant progress with its strategic priorities.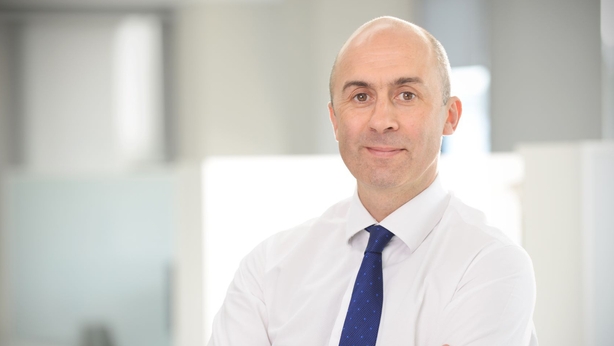 He said the business performed well, delivering further growth in distributable income and recording only a modest decline in portfolio value.
"Our leverage is amongst the lowest in the pan-European REIT universe, and this balance sheet strength gives us substantial capacity and strategic flexibility for value-enhancing investment opportunities. We have completed the €25m share buyback programme launched in August 2020, which has proved a highly accretive use of capital," Mr Nowlan said.
The CEO said that until there is a clear pathway for workers to return to their offices in meaningful numbers, Hibernia REIT expects Dublin office vacancy rates to continue to rise and rents to remain under pressure. 
"As the pandemic has continued we believe the importance of offices for employee collaboration, creativity and culture has become increasingly apparent and we remain positive about the long-term prospects for well-configured, prime offices in Dublin's city centre," Mr Nowlan added.
Goodbody analysts said that despite the fact that global office markets are plagued by uncertainty, investment volumes are severely depressed and occupier activity is at a standstill, the quality of Hibernia REIT's portfolio "shone through during the severe stress impacting the market due to Covid-19. 
In a note, Goodbody said the sector leading rent collection has allowed Hibernia to be in a "rarefied" position of growing earnings and dividends during the period when most peers were cutting or suspending distributions. 
Investec said that Hibernia's share price has performed very well in recent weeks, increasing by more than 20% so far this month. 
"Where market rents will finally settle remains uncertain however given low transactional activity in recent months, particular in the lettings market, as firms defer making decisions in the current environment," the brokers said.