New figures from the Central Statistics Office show that the seasonally adjusted Live Register total for October 2020 stood at 211,600, down 4,400 from in September.
In the last week of October, the CSO said that 329,991 people were getting the Pandemic Unemployment Payment (PUP).
This was the highest weekly number since the week ending July 12, when a total of 345,653 people were in receipt of the PUP.
The CSO said the number of people getting the PUP rose by 34,131 for the week ending November 1 - the fourth week of increases in a row.
Of the 329,991 people getting the PUP, the CSO said that 49.6% were men and 70.8% were Irish.
Almost a quarter were in each of the 25-34 year old (22.9%) and 35-44 year old (21.7%) age groups, the CSO added.
The CSO also said that 753,029 people have received at least one payment since the PUP scheme was established in March, of which 47.8% are aged between 25 and 44 years of age.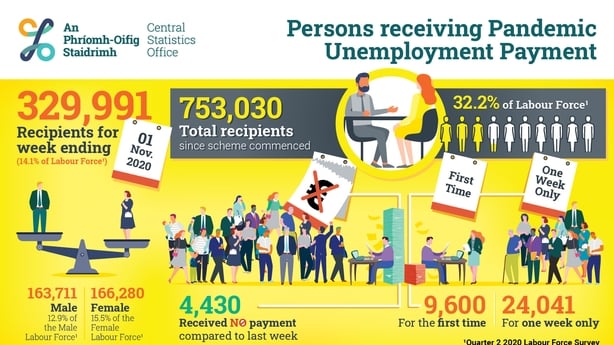 Figures earlier this week from the CSO showed that the unemployment rate, including those receiving temporary Covid-19 jobless benefits, rose to 20.2% in October from a revised rate of 15.9% in September after strict new restrictions were introduced in an effort to stop the spread of the coronavirus.