Tourism Ireland's Niall Gibbons has emerged as the most influential Irish CEO on social media this year, according to a report released by communications firm the Reputations Agency.
The report analysed the social media activity and LinkedIn profiles of the CEOs of 100 organisations over a six-month period from March to September 2020.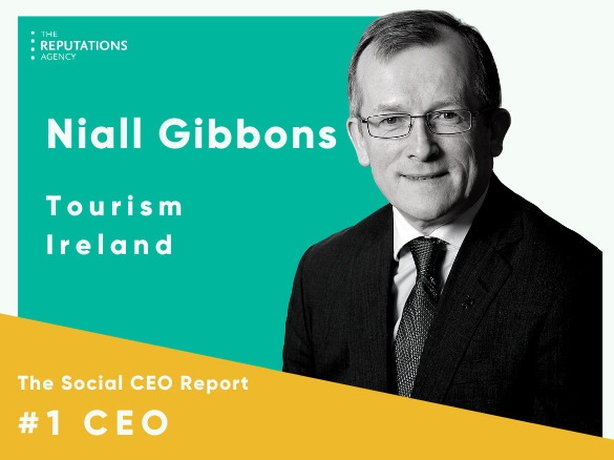 Niall Gibbons, CEO, Tourism Ireland, who took first place, was highly commended for the popularity of his LinkedIn channel, the vibrancy of his narrative in promoting the island of Ireland overseas on behalf of Tourism Ireland and the quality of the engagement from his connections.
Anne O'Leary, CEO, Vodafone Ireland and Francesca McDonagh, CEO, Bank of Ireland took second and third place, respectively.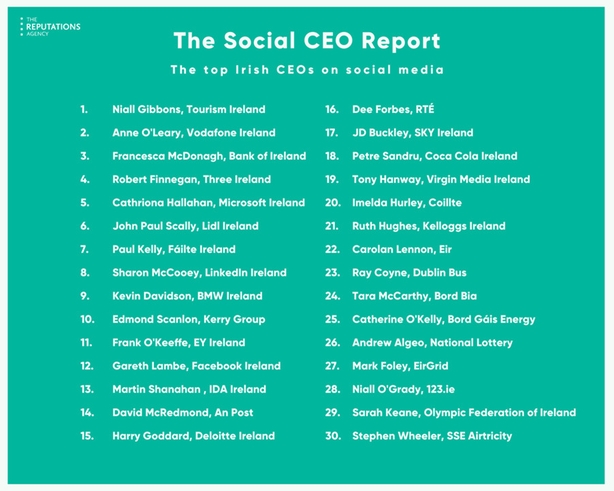 The study showed that 85% of the 100 Irish leaders examined have a LinkedIn account, but only 38% posted in 2020.
According to the report, only 27% were active on Twitter.
Of those studied, 30 CEOs were noted as having a 'well-executed' social media strategy.
Speaking about the results, Niamh Boyle, Managing Director at The Reputations Agency said:
"With more communications channels than ever it is important to understand which channels and messages to focus leadership energies upon, to best engage with key stakeholders and influencers.
"The appeal of a senior leadership team and their ability to communicate not just about financial performance or the latest product or service, but to provide a clear and compelling corporate vision is becoming more and more important," she said.
The release of the report marks the launch of the agency's Leaders Reputation Programme, a three-month leadership communications programme, designed to empower and build confidence in business leaders to communicate and advocate for their organisation externally.
The programme consists of four building blocks - the role of leadership in reputation management, social media training, preparing for media interviews and a national media profiling programme.